Obamacare Scare: Double-Digit Premium Hikes?
Aetna warns some policyholders of double-digit premium hikes
By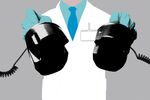 With some measures of Obamacare set to kick in next year, the health-care policy wars have taken on a schizophrenic quality. Large health insurance companies are warning individuals and small businesses to brace for significantly higher premiums. Aetna Chairman and Chief Executive Officer Mark Bertolini told CNBC on March 19 that there would be an average 32 percent premium increase for people buying their own policies starting in 2014. Fans of the Affordable Care Act (ACA) dismiss such talk as scare tactics. Ron Pollack, executive director at Families USA, a Washington-based consumer advocacy group, concedes that premiums may rise initially. But he cites an analysis by the Congressional Budget Office, which predicts that once the law's hundreds of billions of dollars in subsidies and cost savings go into effect in 2014, total out-of-pocket insurance costs will fall by an average of 60 percent.