M&A News: BP, ­Rosneft, CSM, Rhone Capital, Allianz, Bidvest Group
Noteworthy expenditures of the week
by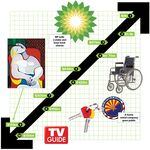 1. London-based BP plans to buy back $8 billion of its own shares after completing a deal to sell its entire 50 percent of Russian oil producer TNK-BP to Rosneft. BP will have a 19.8 percent stake in Rosneft, Russia's biggest oil company.
2. The Netherlands' CSM is selling its bakery supplies unit to New York buyout firm Rhone Capital for about $1.3 billion including debt.
3. Europe's No. 1 insurer Allianz bought Turkey's Yapi Kredi Sigorta for $879 million as part of a plan to expand in rapidly growing emerging markets.
4. Reaching for a better foothold in the hospital products and medicine market, Bidvest Group bid about $670 million for a 60 percent stake in fellow South African company Adcock Ingram Holdings.
5. Two of London's oldest financial firms are combining as Schroders purchases Cazenove Capital Holdings for $646 million to expand in private banking.
6. Japan's largest general retailer, Aeon, will pay as much as $426 million to raise its stake in smaller rival Daiei, as part of a plan to expand in urban areas.
7. American Residential Properties, an owner of single-family rental homes, plans to raise $300 million in an IPO.
8. Dublin-based Shire, a maker of medicines for rare genetic diseases, will buy California's SARcode Bioscience for at least $160 million.
9. SAC Capital Advisors' chief Steven Cohen bought Pablo Picasso's Le Rêve for $155 million from casino owner Steve Wynn, says a person familiar with the deal. Cohen had agreed to buy the painting in 2006, but the sale fell through after Wynn accidentally put his elbow through the canvas.
10. CBS will pay more than $100 million to buy a 50 percent stake in TV Guide Network from JPMorgan Chase's One Equity Partners unit, says a person with knowledge of the plan.
Before it's here, it's on the Bloomberg Terminal.
LEARN MORE