GM Korea Says Strengthening Won Undermining Its Competitiveness
Rose Kim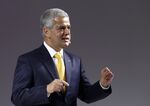 General Motors Co.'s South Korean unit said a strengthening won is undermining competitiveness in a way that threatens the business's sustainability.
GM Korea Co. exports 85 percent of the vehicles it makes in the country, making it vulnerable to an appreciating currency, Sergio Rocha, chief executive officer, said today.
South Korea's currency has gained 15 percent versus the yen since mid-November when Japanese Prime Minister Shinzo Abe, then a candidate for the office, began calling for "unlimited" stimulus and a 2 percent inflation target. The move erodes overseas profit at GM Korea, which makes Chevrolets for sale in the country and Europe and South America, making up 40 percent of all Chevrolets sold worldwide.
"If we lose the competitiveness here it may impact the sustainability of the business," Rocha said in an interview at the Seoul Motor Show. "The Korean won is moving to a wrong direction."
Rocha also said the automaker is considering buying back common shares held by state-owned Korea Development Bank to increase the company's independence. The unit of the Detroit-based automaker is in talks to redeem all preferred shares it sold to the lender, he said.
"It's not because we want to leave Korea," Rocha said. "It's just because we want to manage our destiny."
GM Korea said in February that it bought back about 700 billion won ($629 million) of preferred shares from creditors including Korea Development Bank late last year. The dividend payout had increased to 7 percent of the preferred stock's $4,000 a share price from 2.5 percent, according to a company e-mail.
The increase in the dividend is part of a 2002 agreement under which the GM unit also said it would redeem all preferred shares from creditors by 2017.
Before it's here, it's on the Bloomberg Terminal.
LEARN MORE