Exchanges Won't Solve Obamacare's 'Family Glitch'
By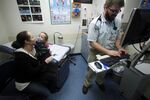 Starting next year, the Affordable Care Act requires most Americans to have health insurance. There are carrots and sticks in place meant to make that happen—and keep it affordable.
One of those carrots: If workers can't afford what their employer offers, federal tax credits are available to help them buy coverage on health exchanges. Workers are only eligible for the credits if the premium on individual coverage offered through an employer is more than 9.5 percent of their household income. One problem, sometimes called "the family glitch," is that the law essentially neglects those trying to insure their dependents—coverage that is of course much more expensive than an individual's premium.
Critics have called attention to the family glitch since it was created by IRS rulemaking in 2012, and the Kaiser Family Foundation has estimated that as many as 3.9 million dependents may be affected. At a Senate Finance Committee meeting last month, Senator Ron Wyden (D-Ore.) asked the federal Centers for Medicare and Medicaid Services to look for ways to help families that don't receive premium subsidies to afford to buy coverage.
In a recent Bloomberg BNA story (subscription only), Sara Hansard reports that CMS responded to Wyden's request by suggesting that workers struggling to pay for dependents use the Small Business Health Options Program (SHOP).
Employers can designate levels of actuarial coverage and contributions toward employee coverage in the SHOP exchanges, and employees will use the employer contribution toward premiums for plans chosen by employees, CMS wrote.
Wyden, however, says in a statement released Tuesday that SHOP will only apply to a small number of workers, and that it represents "a similar, but very limited" replacement for the voucher program that was repealed from the ACA in 2011. (When Karen E. Klein reported on SHOP exchanges earlier this month, only 17 states plus the District of Columbia were planning to adopt them.)
Wyden is pressing on with his call for a solution to the family glitch, though it's unclear what kinds of sticks or carrots he can use to bring about his desired changes in the three-year-old law.