Apple, Volkswagen Face the Wrath of Chinese Media
by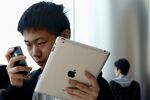 It's been a rough month for Apple in China.
In early March, during its annual programming to mark China's Consumer Rights Day, state broadcaster China Central Television reported on the company's after-sales practices. Two weeks later, the Communist Party's newspaper, the People's Daily, published over three days articles critical of the iPhone and the iPad. The People's Daily attack reached its crescendo in a March 27 commentary with the call to arms: "Destroy Apple's 'Incomparable' Arrogance."
Apple isn't the only foreign company getting the business from the Chinese media. The country's state-controlled newspapers, TV stations, and magazines have also been targeting Western automakers. At a time when Chinese brands continue to suffer at home because of perceived safety and quality problems, the country's state-controlled media have been putting the spotlight on alleged abuses by multinationals. Indeed, the foreigners seem like easy targets.
Early this month, China Central Television (CCTV) ran a spot featuring Chinese Volkswagen owners griping about problems with their cars. Less than a week later, the German automaker was embarrassed by its biggest recall in China, with the government's top quality inspector saying Volkswagen was recalling 384,181 of its Golf, Magotan, Safitar, and Audi A3 vehicles to replace defective gearboxes that may result in the loss of acceleration. In a statement, VW said it would bear the cost of replacing defecting equipment and upgrading software. The company said the defects had not caused any significant damage. "There have been no injuries or accidents reported" due to the gearbox problem, "as far as we know," said Christoph Ludewig, a Volkswagen China spokesman, as reported by Bloomberg News.
That wasn't the end of VW's difficulties in March. The official China Daily newspaper on March 26 carried a report about a government probe of foreign luxury cars that, according to a report by China Central Television, contain materials that can cause cancer. The investigation focuses on the local operations of Volkswagen as well as its German rivals Mercedes-Benz and BMW. The government's Defective Product of Administration Center, which is part of the General Administration of Quality Supervision, Inspection, and Quarantine, found the automakers used asphalt in "damping plates … used to absorb vibrations and noise," the China Daily report said. "The three automakers will be asked to examine their operations and correct their wrongdoings."
The Western companies can't afford to anger Chinese consumers, since so many companies are counting on increasing their market share in China. Apple, for instance, is vulnerable, with Chief Executive Tim Cook having made no secret of how important the Chinese market is to Apple. Last year, the company's Greater China sales, which include the mainland as well as Hong Kong and Taiwan, jumped 67 percent, to $6.63 billion. That's 13 percent of Apple's total sales.
With so many Apple fans in China, though, the state media may have picked a fight it can't win. Yes, some Chinese consumers may not have had the best experience dealing with Apple staff. But many of China's local brands don't enjoy particularly strong reputations for customer service or quality control. Chinese consumers tend to like Western brands such as Apple and VW, in part because of the damage done to local brands by a series of food-safety scares, from milk powder tainted with melamine to dead pigs floating in the river that supplies drinking water to Shanghai.
It will take more than a few bad articles in the People's Daily to make Chinese consumers forget those.
Before it's here, it's on the Bloomberg Terminal.
LEARN MORE