Why CBS Is Buying Half of TV Guide Network
by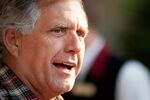 CBS executives announced on Tuesday that the network is buying half of TV Guide Network (and the website tvguide.com), which CBS will eventually re-brand and operate with co-owner Lionsgate. The price of the sale, according to Bloomberg News, is more than $100 million.
TV Guide Network, the one-time listings channel, has staggered through the basic cable hinterlands in a state of existential confusion since the advent of one-click cable menus. Why would CBS Chief Executive Officer Leslie Moonves want it?
The chief appeal to CBS is that TV Guide Network is currently available in more than 80 million homes. That's a lot of channel surfers, in other words, that Moonves can potentially woo with re-purposed CBS programming. And at a time when cable distributors are wary of annoying customers by adding channels to their already hefty bundled-subscription packages, media companies hoping to create a basic cable channel can find it easier to buy and re-brand an existing network (as Al Jazeera did recently, in buying Current TV) than to build one from scratch.
"We're excited to bring CBS's programming and production assets to the venture, and work with Lionsgate to rebrand and grow a channel that will be increasingly valuable to our carriage partners," said Moonves on Tuesday.
In the wake of the announcement, analysts were largely positive about the move, embracing the theory that the network should benefit from CBS's programming expertise and deep library of shows. "We think this would be a win for CBS," writes David Bank, an analyst with RBC. "Putting CBS content on the network would likely boost viewership and advertising (in addition to affiliate fees)."
At the moment, TV Guide Network shows reruns of dusty sitcoms like Who's The Boss and Designing Women, as well as such older movies as When Harry Met Sally.
There's no word yet on what Moonves and Lionsgate executives might call the re-branded channel. The Moonlion Network has a nice ring to it.
Before it's here, it's on the Bloomberg Terminal.
LEARN MORE