Vera Wang Backs Down From Wedding-Dress 'Try-On Fee'
by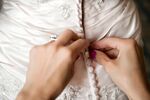 China's $57 billion wedding industry floats on ridiculous markups on everything from liquor and cigarettes to photography. But for "VIP" brides-to-be shopping at Vera Wang's boutique in Shanghai, which is still in a soft-opening phase, one charge took the white wedding cake: The store charged 3,000 renminbi ($482) for a 90-minute, wedding-dress try-on session. That's right: Customers were paying for the opportunity to pay for something.
Without a question the fee was high—the average monthly salary in the city is only about 4,400 renminbi. Regardless, the try-on fee is not uncommon in high-end stores in China, reported nymag.com. Such a charge helps dissuade counterfeiters and helps clear out shoppers, especially students, who just want to play dress-up. "We just wanted to make sure we were serving the right customers, and the [fee] is then redeemable off the purchase price of any gown," a staffer told Womens Wear Daily. And let's face it: Vera Wang never pretended to be cheap.
After a debate broke out on China's microblogging site, Sina Weibo, the designer announced it would stop charging the fee, saying in a statement: "We wish for all Vera Wang customers to enjoy the same standard of excellence worldwide. Treating our customers in a fair and equitable way remains a priority."
The try-on fee has been spotted in other markets, too. A 2008 story in the New Zealand Herald found some bridal shop owners charging a $20 fee for each dress. Outside of bridal, a handful of stores in Australia started charging customers to try on clothes in 2011 as a way to cope with falling sales. One Sydney ski shop charged a $50 fitting fee to try on ski boots, reported the Australian.
The practice has garnered some critics in the U.S. "A high-end customer is not going to want to be charged to try something on," says Daniel Butler, vice president of retail operations at the National Retail Federation. "I can't imagine someone who tries on a couture gown would pay before making any commitment [to it]. I think there are far better things retailers can do to drive sales than something like this that alienates customers."
Before it's here, it's on the Bloomberg Terminal.
LEARN MORE