Small Towns Find Fracking Brings Boom, Booming Headaches
by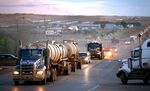 Fracking's secondary effects will increasingly challenge small towns and cities grappling with job gains and environmental costs, according to a study by Oklahoma State University researchers.
Towns that have already experienced the U.S. boom in natural-gas exploration using hydraulic fracturing, or fracking, hold lessons for dealing with mineral-rights disputes, pollution concerns and increased strains on roads, schools and police forces, said Shannon Ferrell, agricultural law professor at the Stillwater, Oklahoma-based school. 
"A lot of the issues revolve around who benefits from natural gas development," Ferrell said in a phone interview. "The stakeholders are very diverse, as are the regions where it's taking place." The Oklahoma State study wasn't meant to make policy recommendations, he said.
Fracking is unlocking new reserves of oil and gas from shale-rock formations in North Dakota, Texas and the Northeast and Mid-Atlantic regions. Foreign oil imports are at a 20-year low, and domestic production is expected to continue to rise at a pace that will help the U.S. oust Saudi Arabia as the top producer by 2020, according to the International Energy Agency.
Critics say fracking is fouling water supplies in communities from Pennsylvania to North Dakota and replacing one fossil fuel -- coal -- with another. While groups including the Natural Resources Defense Council acknowledge the benefits of switching to natural gas, they are demanding greater regulation of fracking to minimize adverse environmental effects. The process involves shooting  millions of gallons of water mixed with sand and chemicals underground to break apart rock formations and free trapped gas.
The Oklahoma State report highlighted different approaches state and local governments may take toward fracking. They range from deregulation, which may speed growth and increase producer income, to high government involvement that may address citizen concerns while driving away development. While much of the boom now is concentrated in rural areas such as western North Dakota, future development will also literally rub shoulders with denser populations, Ferrell said.
Related News:

Exploration in some areas has had earthshaking results, literally. In the Barnett Shale region of north Texas, the process has been linked to quakes in the Dallas-Fort Worth suburbs. Scientists at the University of Oklahoma have linked fracking to the state's biggest earthquake, a 5.7-magnitude event in 2011.
Meanwhile, in central California, the Monterey Shale formation may provide a $25 billion tax windfall to a cash- strapped state known for environmental activism. New York, another state targeted for development, has a moratorium on fracking until environmental effects are better-known. These approaches all have costs and benefits that are not yet well- understood, Ferrell said.
"In a rural area, you have very strong impacts on the communities, but very few people," Ferrell said. Urban areas are better-able to absorb the effects of both the growth and the challenges of fracking while having more stakeholders, making policy solutions more difficult, he said.
The Oklahoma State study was done for the National Agricultural and Rural Development Policy Center, a research network established by the U.S. Department of Agriculture. Wednesday's discussion is sponsored by the Farm Foundation, an Oak Brook, Illinois-based group that studies agricultural policy and rural communities. Also participating in the seminar is Brian Rahm, a post-doctoral associate at the New York State Water Resources Institute.
Visit www.bloomberg.com/sustainability for the latest from Bloomberg News about energy, natural resources and global business. 

Before it's here, it's on the Bloomberg Terminal.
LEARN MORE