Oracle Unveils 'World's Fastest Chip' in Bid to Save Sun Biz
by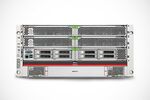 A bit more than a decade ago, the release of a new Sparc chip from Sun Microsystems would inspire heavy breathing from the computing elite. Because dot-coms, Wall Street firms, and telecommunications companies relied so heavily on Sun's servers, a new Sparc chip meant to some degree that the entire Internet would run faster.
A lot has happened in 10 years. Nonetheless, Larry Ellison, chief executive officer of Oracle and acquirer of Sun in 2010, found himself on Tuesday heralding the glories of a new Sun microprocessor. The chip, Ellison said during a speech at Oracle's Silicon Valley headquarters, is the fastest in the world. It will fuel Oracle's new server lines, and as a result Oracle's databases and applications will run more quickly than ever before. (Oracle rolled out a fog machine and light show for a bit of razzle-dazzle.)
"When Oracle bought Sun, a lot of people thought the Sparc microprocessor was a real laggard," Ellison said. "A lot of people believed we would never catch up. Well, we caught up and then passed the competition."
Exactly who the competition is, is an interesting question. In its glory days, Sun was one of a handful of companies—IBM, Hewlett-Packard, Compaq, SGI—that made their own processors for high-end servers. Over time the cost of building custom chips rose and Intel's chips became an industry standard. Today, IBM and Oracle/Sun are the only members of this group still making their own chips, which in turn run their own operating systems—AIX and Solaris, respectively.
These custom chipmakers used to try to one-up each other every few months or so, using benchmarks that showed how fast they could calculate an equation or process a transaction. IBM would outfit a bunch of servers with its latest and greatest and get a high score. Then Sun would show up and beat that score. Then Hewlett-Packard would beat them both, and so on and so on.
When Ellison describes Sparc as the fastest chip in the world, he's doing so based on one of these benchmarks: TPC-C. The sad reality, though, is that the system Oracle beat to get the top TPC-C score is a five-year-old computer from IBM. Most of the benchmark scores in the top 10 are more than five years old. Companies have pretty much given up on this "world's strongest computer" competition.
Rather than trying to woo customers away from competitors, Oracle is mostly trying to convince its existing customers to upgrade their Sun hardware. At its peak, Sun sold about $3.5 billion of computing hardware per quarter. Now Oracle sells about $670 million of hardware per quarter. Where Sun once dominated the market for high-end (Unix) servers, it now accounts for only 17 percent of the market, tying HP and trailing IBM's 63 percent market share. Most companies looking to build fast, large computers cobble together lots of smaller servers based on Intel's Xeon server chip.
If Ellison is distraught about Sparc's declining relevance, he hides it well. He pledged to keep on advancing the chip line, building special accelerators into the hardware in the years to come to run database and Java tasks particularly fast.
Before it's here, it's on the Bloomberg Terminal.
LEARN MORE