Is an Aging Bull Market Seeking a Correction?
by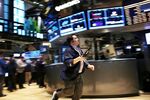 Port yourself for a moment to the still-perplexing Flash Crash of May 2010. Before that, the market that just kept melting down between Lehman Brothers' failure in September 2008 and the Wall Street stress tests that followed into the spring of 2009. Try to remember how it felt to make an investing decision in such a fearful fog.
It's all too easy to want to forget, now that the market has since rallied from those depths to revisit an all-time record. Indeed, 18 months have transpired since the Standard & Poor's 500 benchmark last staged a mere 10 percent correction, according to InvesTech Research. Things feel so calm, so copacetic of late that Hollywood celebrity Mila Kunis, whose work includes Family Guy and Friends with Benefits, is now constructive on stocks.
Fine time to ask, then: Is an old-timey sell-off overdue, especially with "Sell in May and go away" season approaching?
"No one rings the bell at the top and no one sounds the alarm at the bottom," says Joshua Scheinker, a broker in Baltimore. "My clients are all looking for a correction. They all say they will jump back in after a downturn." Scheinker thinks the S&P 500 will make new highs before posting a short-term correction.
The age of this bull run is pretty up there in the record books. According to Minneapolis-based research firm Leuthold Group, said taurus joins only seven of the 22 bull runs since 1900 that have lasted four years. Among that group of seven, five lasted at least an additional year. The Roaring Twenties' bull gained 500 percent over eight years before crashing spectacularly in 1929.
So then, how does this market rank on a valuation basis? It depends on whom you ask.
Even after its four-year run of more than 130 percent, today's S&P 500 bull is cheaper than any record high since 1980, according to Bloomberg data. The benchmark now changes hands at 15.4 times reported profit, below the average 19.9 reached in bull markets since 1962.
That doesn't square with Yale professor Robert Shiller's oft-quoted cyclically adjusted price-to-earnings ratio, or CAPE, which looks to use a smoothed-out number from the past 10 years' average earnings. The reading, which called big downturns in 1929, 1999, and 2008, is now at 23, compared with a median price-earnings ratio of 16 since the late 1800s. (By comparison, it was at a nosebleed 44 in 1999, when sock puppets roamed the Nasdaq). But don't forget that in the throes of the 2008-2009 crash/panic, U.S. earnings truly tanked (PDF) in a most one-off way. Banks were recapitalized and people started shopping again. P/E prognosticating in the middle of that crisis—you're more interested in future earnings than what went down last year—wasn't particularly helpful to anyone.
Back to now: How much does return-chasing keep the bull hoofing higher? "Another month of gains might serve to lure in more of the fence-sitters," says Leuthold's Doug Ramsey. That, he says, could grease the skids to another "Sell In May and Go Away scenario." (Ramsey has taken to citing, half tongue-in-cheek, that in the Chinese zodiac we're in the Year of the Snake, which has been the only one of a dozen animal years to historically post negative returns.)
Much has been made this year about the hesitant comeback of the retail investor. Still, while individuals added almost $20 billion to U.S. stock funds this year, that sum represents just 3.5 percent of their equity withdrawals since 2007, according to the Investment Company Institute.
To what extent will John and Jane Q. Kunis stick around in a sell-off, whenever it arrives?
Before it's here, it's on the Bloomberg Terminal.
LEARN MORE