Strokes Misfire, Depeche Mode Inspires, Clapton Glows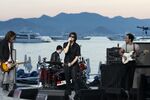 The new Strokes album lives up to its title, "Comedown Machine."
It's been all downhill for the New York band since 2001.
The Strokes got off to an inspired start then with "Is This It," which packed more guitars, punky attitude and pop hooks into an economical 36 minutes than seemed possible.
Hopes of a return to form this time were fueled by the spiky single "One Way Trigger" and the news that the quintet had recorded the new album in the same room. Last time around, on the lackluster "Angles," singer Julian Casablancas had sent in his contribution from another studio.
While songs such as "All the Time" are sprinkled with fine solos by guitarist Nick Valensi, the whole thing doesn't gel.
"Call It Fate, Call It Karma" is the apt title for the sign-off track. If this is the end for the once-great Strokes (it is the last under its current RCA contract), the band is bowing out not with a bang but a below-par whimper. Rating: *.
Depeche Mode, by contrast, has just released its best album in two decades. "Delta Machine" takes the trio a long way from its roots in Basildon, U.K.
"Welcome to My World" starts a set of swampy blues with the guitars buried under synthesizers that chug along like demented generators. Dave Gahan is inspired to do a fine Nick Cave impression on the ballad "Angel."
"The angel of love was upon me," he moans, "and lord I felt so small." By the gothic doom heaped on the words, I'm not sure this is religious reference. Rating: ****.
Eric Clapton also has a bluesy song called "Angel" on his new album, backed by J.J. Cale. The CD is strewn with star collaborations: Taj Mahal on "Further on Down the Road," Chaka Khan on "Gotta Get Over" and Paul McCartney on "All of Me." Macca was returning a favor after Clapton featured on his last, which like this is largely a collection of cover versions.
The best number is a new take on Gary Moore's "Still Got the Blues" featuring Steve Winwood. Clapton, at 67, can more or less do what he likes, right from the title -- "Old Sock." His guitar is effortless and understated. This rarely shows fire, just a warm afterglow. Rating: ***.
It's a busy time for groups making comebacks: the U.K.'S Suede, OMD and Wire among them.
Suede's "Bloodsports" is its first collection of new material since 2002.
Leader Brett Anderson says the record sounds like a cross between "Dog Man Star" and "Coming Up." It's also not quite as good and needs the flourishes of past member Bernard Butler. His replacement Richard Oakes continues to step up to the plate on singles such as "It Starts and Ends With You," though there's nothing to match "Trash" or "Filmstar."
After playing the new one, I was drawn back to the excellent reissues of Suede's first few albums.
Rating: *** for the new CD, **** for the reissues.
What the Stars Mean:
*****      Exceptional
****       Excellent
***        Good
**         Average
*          Poor
(No stars) Worthless
(Mark Beech writes for Muse, the arts and leisure section of Bloomberg News. The opinions expressed are his own.)
Muse highlights include Martin Gayford on art, Stephanie Green's Scene Last Night and Jeremy Gerard on U.S. theater.
Before it's here, it's on the Bloomberg Terminal.
LEARN MORE