Senators Shift to Gay-Marriage Support Before Court Case
Nick Taborek and Danielle Ivory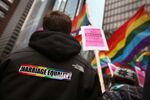 Three Democratic senators added their voices to a growing and bipartisan chorus of support for same-sex marriage on the eve of today's historic oral arguments before the U.S. Supreme Court.
Senator Mark Warner of Virginia yesterday announced his backing for "marriage equality because it is the fair and right thing to do." Alaska Senator Mark Begich said in a statement last night, "I believe that same-sex couples should be able to marry and should have the same rights, privileges and responsibilities as any other married couple." Senator Claire McCaskill of Missouri said on March 24 that "our government should not limit the right to marry based on who you love."
Their statements on the issue came less than two weeks after Senator Rob Portman, an Ohio Republican, threw his support behind gay marriage. While the announcements are "a step into the unknown" for each politician, they help propel acceptance of same-sex unions, said Don Kettl, dean of the University of Maryland's school of public policy.
"It increases the sense of inevitability," Kettl said in a telephone interview. "There is a sense that the middle of the spectrum on this issue has shifted pretty fundamentally and pretty quickly."
Virginia and Ohio were among the most closely contested states in the 2012 presidential election, with President Barack Obama carrying them both. Missouri and Alaska went for his Republican challenger, Mitt Romney.
Public Support
Fifty-eight percent of Americans say they support marriage equality, according to a Washington Post-ABC News poll conducted this month. Among younger Americans -- those ages 18-29 -- 81 percent say they support gay marriage, according to the poll.
Against that backdrop, the nation's high court considered same-sex marriage for the first time today, taking up arguments on Proposition 8, a 2008 California ballot measure passed by voters that bars such unions.
Tomorrow, the court will weigh the legality of the Defense of Marriage Act, a 1996 U.S. law that defines marriage as a heterosexual union and prevents gay spouses from claiming federal benefits available to other married couples.
Underscoring the interest the case has generated among Americans, scores of people on both sides of the gay-marriage issue endured a spring snowstorm yesterday to secure places in line for a limited number of seats. Thousands more planned to attend rallies.
'Crazy Thing'
Jason Wonacott, 25, was among the earliest arrivals at the plaza in front of the court in Washington, getting in line on March 22, prepared to camp out for four nights.
"It's just such an important and historic case that affects me personally because I'm gay and I'd like to get married one day," said Wonacott, who lives in Washington. "It seemed like it was a bold and kind of crazy thing to do to show how important this is to me and how historic it's going to be."
Not everyone intent on witnessing the arguments braved the cold.
Mark Jansson, 68, of Elk Grove, California, hired line-sitters to hold three spots in the spectator queue. Jansson, a volunteer for ProtectMarriage, a group that opposes same-sex marriage, declined to disclose how much he was paying his placeholders.
God's Law
"We've gotten some great kids to help us out here," he said of the women sitting in lawn chairs, shielded by a tarp that protected them from the snowflakes. "We believe that marriage is ordained of God. We're very concerned what could happen on Tuesday with the Supreme Court, but we're excited as well."
One of the women, who would only identify herself as Taylor, said they had been provided with hot chocolate and food as temperatures dropped.
Several people who indicated they were waiting in line on behalf of others declined to discuss who hired them or the amount they were receiving.
"It's ridiculous," Aaron Black, 39, a same-sex marriage supporter, said of the paid line-sitters. "The people who are passionate about the issue and are putting in time to come down here should be able to go in."
Black said his group expects thousands of gay-marriage supporters to demonstrate in front of the court today.
"It's appalling that people don't have equal rights at this point. Enough is enough," he said.
March to Court
The Family Research Council, which opposes same-sex marriage, was planning to participate in a march to the Supreme Court building today that would attract "several thousand" people, said Peter Sprigg, a senior fellow for policy studies at the organization.
"It's going to be very significant for the institution of marriage and the future of our country," Sprigg said of the court cases. "Each side has to respect the free speech right of the other, and I'm confident that will take place."
At least 60 seats were to be available to members of the public who wanted to view the entire argument, Scott Markley, a spokesman for the Supreme Court, said in an e-mail. An additional 30 seats would give visitors the chance to view the proceedings for about three to five minutes, he said.
Cordell Asbenson, 21, of Washington, who said he believes marriage should be defined as between a man and a woman, started his wait at 10 p.m. on March 23.
More Memorable
While Asbenson isn't opposed to paid line-sitters, he said experiencing the arguments in the same-sex marriage case will be more memorable for those who camped out themselves.
"It will mean more to us going in there, I feel, than to those who didn't come out here, because we've had to suffer through the cold and the sleeping outside," he said.
Frank Colasonti Jr., 61, said he hopes the court's decision will mean he can marry his partner of 25 years, James Ryder. The couple traveled from Michigan to attend the arguments and got in line at 5 a.m. yesterday.
"We wanted to lend support to those who are impacted by it, as we are," he said.
Wonacott, who has worked as a consultant at the U.S. Department of Energy, said he has benefited from the kindness of friends and strangers during his marathon wait. Visitors have regularly offered food, including a delivery of pizza that he shared with others in line, he said.
"I have way too much food," said Wonacott, who posted about his experience sleeping for six hours in the snow on his blog, blondemillennial.com. "People keep bringing me all this food. I'm very appreciative, but I'm like, I can't eat any more."
Before it's here, it's on the Bloomberg Terminal.
LEARN MORE