Michael Sillup, Manage My 401(k)
By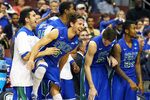 The Eagles beat Mercer in the conference title game for the NCAA berth, then beat Georgetown 78-68 in the South region on March 22. Two days later, Andy Enfield's team outscored San Diego State 47-36 in the second half to make history.
The previous six teams to win as No. 15 seeds since 1985 lost their next contest. The previous lowest-ranked schools to make the final 16 were 14s—Cleveland State in 1986 and Chattanooga in 1997.
—Erik Matuszewski, edited by Michael Sillup, "Florida Gulf Coast Coach Reprising Startup Success at Tournament," Bloomberg News, March 26, 2013.
San Diego State killed me.
The 12,655 Eagles of Florida Gulf Coast University have much to celebrate as their Cinderella team goes to the Sweet 16. Another reason to celebrate is none of them, not one of 12,655, has a bracket worse than mine.
(A bracket is a 64-team basketball guessing game, the goal of which is to do better than the girl sitting to your left. And as Sara Eisen knows, I have failed in five of the past five years.)
Picking March Madness winners is like gaming the stock market. It is one big #Fail. I will be celebrating a Sweet 8 as half my choices … lost. Brackets are like picking stocks; at best a 50/50 proposition.
Unless you're Michael Sillup.
Note, above, the editor of Matuszewski's masterpiece. Mr. Sillup has eons of experience and encyclopedias of knowledge on NCAA basketball. His bracket is an act of God. Rumor has it Sillup is a mere mortal as he failed to select FGCU. He is so near perfection as to cause awe and mystical reverence.
Men drift quietly by his desk. Women descend to ask Indiana's chances.
My bracket is a disaster. But then so, too, is my 201(k). I need to switch portfolio managers to someone who can pick 'em. I need some wall-of-worry mysticism. Michael Sillup, manage my 401(k). Discuss.