Mapping the Bones of a City
Every building in Chicago, mapped by zoning, size, code violations and new construction.
By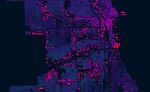 The above glowing map contains the footprint of every building in Chicago, from the 6.4 million square-foot original McCormick Place complex on South Lake Shore Drive – five stories, zoned PD 331 for cultural and entertainment purposes – to this tight warren of single-family homes (and detached garages) on the city's South Side:

These images come from a navigable map series called Edifice created by the Open City collective of volunteers behind some of other Second City apps that Eric Jaffe has highlighted. But I love this one in particular for the way it is both ultra-specific – I found my childhood apartment – and surprisingly artistic. The negative space is also as compelling as the colored mosaic of buildings.
This diagonal gash through the city marks the side-by-side Stevenson Expressway and Chicago Sanitary and Ship Canal:

Other black boxes around the city mark parks, airports or other city infrastructure. This is ghostly O'Hare International Airport, which extends out from Chicago's city limits on the northwest side like a peninsula:

The maps are also sortable by demolitions, building violations and new construction, lending an entirely new way of looking at some of the most impenetrable spreadsheets in any city's files. Here, we'll leave you with a snapshot of the even stranger allure of all the city's code violations since 2006 (with complaint inspections in blue, periodic inspections in red, and permit inspections in yellow):