Giamatti's Mild Hamlet Goes Sideways in Elsinore: Review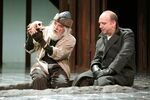 Paul Giamatti and Hamlet, Prince of Denmark aren't names that naturally coexist in the same sentence.
Barely out of boyhood, Hamlet is to the manner born yet possessed of the common touch: There are several references in Shakespeare's play to the prince's great popularity with the masses. He's a rock star with a rapier, if lately given over to stylish brooding.
On leave from his university studies in Wittenberg, Hamlet is mourning the recent death of his father, followed weeks later by his mother's marriage to his uncle.
Giamatti, 45, has long been on leave himself from Yale, where his late dad once reigned as president. Now he's back at the Yale Repertory Theatre.
There may be a place for a stubby, hairless, charisma-free prince. Hamlet has accommodated actors of every color, shape and sex. But never, in my experience, one so absent a point of view, let alone princely virtue.
James Bundy has distinguished himself running Yale's Drama School and theater. But his production announces its muddled vision from the very beginning, when Elsinore castle's guards are outfitted in military camouflage, wearing berets and bearing semi-automatic weapons along with their swords.
Cocktail Hour
In the royal court below, King Claudius and Queen Gertrude preside in cocktail attire (floor-length, off-the-shoulder metallic gowns for the ladies) over festivities. Hamlet, furtive and scowling in all-black, weaves among the guests.
Possibly to illustrate the prince's internal dishabille, Giamatti ("Sideways") spends much of the play in a loosened robe over tee-shirt and boxers. This is not a flattering look. He delivers Hamlet's speeches lucidly though with more spittle than conviction. The colorlessness is endemic to the overall production.
The stolid castle set by Meredith B. Ries emptily echoes the neo-gothic buildings surrounding the theater.
None of the performances seems connected one to the other. Certainly not Austin Durant's dull Horatio, while Marc Kudisch's Claudius is a puffin incapable of treachery and unconvincing as a usurper of his brother's throne, let alone bed.
Girlish Ophelia
Lisa Emery's Gertrude registers neither lustful obeisance to her new lord nor terror at Hamlet's black despair.
Meanwhile, the Ophelia, Brooke Parks, gesticulates with youthful excess at Hamlet's unaccountable turn of mind, further dramatizing the age difference.
There are a few fine exceptions, notably Gerry Bamman's grandiloquent Polonius; the doting, anguished Laertes of Tommy Schrider; Jarlath Conroy's rough workman, tossing out skulls as he prepares Ophelia's grave.
There's also Sarah Pickett's music, which is more than incidental and less than intrusive, scored for harp, trumpet, bass and percussion. It conjures atmosphere by turns eerie and forbidding, but isn't enough. "Words without thoughts," Claudius says, "never to heaven go."
Through April 13 at Yale Repertory Theatre, 1120 Chapel St., New Haven, CT. Information: +1-203-432-1234; http://www.yalerep.org. Rating: *1/2
What the Stars Mean:

*****  Fantastic
****   Excellent
***    Good
**     So-So
*      Poor
(No stars) Avoid
(Jeremy Gerard is the chief U.S. drama critic for Muse, the arts and leisure section of Bloomberg News. The opinions expressed are his own.)
Muse highlights include Patrick Cole on Marcus Samuelsson and Mark Beech on pop music.
Before it's here, it's on the Bloomberg Terminal.
LEARN MORE