Even Realtors Have a Startup Accelerator
by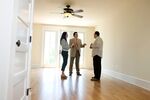 Unlike the software or pharmaceutical industries, the real estate business isn't known for producing innovative technology. So what's the National Association of Realtors doing launching a startup accelerator?
Then again, who isn't launching a startup accelerator these days? The 1.2 million-member trade group is perhaps best known for its monthly reports on the state of the U.S. housing market, but it's no stranger to tech investing: Since 2008, the trade association has operated a $20 million venture fund known as Second Century Ventures that's made strategic investments with the twin goals of earning return on investment and helping companies that serve NAR members.
Second Century's accelerator, called REach, operates along similar lines. The six-member class announced today includes BombBomb, a toolkit for creating, sending, and tracking marketing videos, and Reach150, a referral platform for professional services. Those may not be the sort of companies you'd expect to make news at, say, South by Southwest or Y Combinator's Demo Day, but they could find a ready market in NAR's members.
REach won't be organized like a traditional accelerator, says Constance Freedman, managing director at Second Century. The program will run nine months instead of the more typical three months. And while companies give Second Century small equity stakes to participate, they don't get cash in return. Instead, REach offers promotion and exposure to NAR members, which Freedman says "significantly exceeds" the value it asks for in equity. The mentoring aspect of the program, meanwhile, "will be less Startup 101, more about teaching companies about how the [real estate] industry works."
Don't look for REach entrepreneurs coding shoulder-to-shoulder into the wee hours in an office littered with pizza boxes and Red Bull cans. While NAR offered the startups space at its Chicago headquarters, none of the companies decided to use it. Instead, they'll come together at monthly meetings scheduled around real estate industry functions, such as NAR's annual conference.
All of which makes REach an unusual addition to the ever-increasing lot of startup accelerators. When I asked investors and researchers about industry-specific accelerators for a post earlier this month, two general views prevailed. One school of thought held that venture capital funds, and by extension accelerators, shouldn't focus on narrow industries: No one can predict which companies are going to succeed, so it's better to spread bets around. A second view was that focused accelerators would be more efficient to run, and that companies would likely benefit from working more closely with peers.
The difference between REach and the typical accelerator may be too great to make either of those models applicable. After all, the typical accelerator is designed to help startups attract venture funding. And while Freedman says she'll introduce REach companies to investors, the accelerator will place a greater emphasis on helping companies find new customers in the real estate world. "We want to help companies get an investment at the end," she says. "But the way we want to do it is by increasing the value of the companies by helping them to penetrate the market."
Before it's here, it's on the Bloomberg Terminal.
LEARN MORE