B-School Startup: Turning Coffee Grounds Into Food
By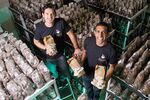 When two Berkeley college seniors attempted to make money by growing mushrooms at a fraternity house in 2009, they got airtime on several national talk shows. "When anybody says you're growing mushrooms at a fraternity … you're bound to laugh," Back to the Roots co-founder Alejandro Velez said on NBC's Last Call with Carson Daly at the time.
Velez and business partner Nikhil Arora were growing oyster mushrooms, a gourmet variety commonly sautéed as a side dish, or used in stir frys—not psychedelic mushrooms, as was insinuated by the late night talk show attention.
Three years later, following $2.4 million in sales in 2012, the pair's business is no joke.
The company expects sales of $4.5 million in 2013 and has become a prime example of how the University of California, Berkeley's Haas School of Business says it encourages undergraduate entrepreneurs.
Velez and Arora got the idea for Back to the Roots after learning in class that it's possible to grow mushrooms in used coffee grounds. They collected the waste from a Peet's Coffee & Tea shop near campus and started experimenting with 10 buckets in the kitchen of Velez's fraternity.
One bucket grew mushrooms, which they immediately took to the nearby restaurant of famed chef Alice Waters, Chez Panisse. They soon got confidence and a publicity boost from Waters, a long-time advocate of sustainably grown food, and landed a regional supply contract with Whole Foods Market. They also received a $5,000 grant from Haas, among other cash prizes, enabling them to open an urban mushroom farm inside a warehouse in West Oakland, Calif.
"We fell in love with the waste-to-food model," Arora says.
The students turned down jobs after graduation—Velez in investment banking and Arora in consulting—to pursue the venture full-time. Arora says Back to the Roots made a profit during its first full year in business. The company hasn't needed to raise money from outside investors. Arora says the venture met its needs through grants, including redevelopment grants from the city of Oakland, prize money, and a line of credit with a local bank.
The company has changed as it has matured. About two years ago, Back to the Roots switched from selling mushrooms wholesale to selling mushroom kits that people use to grow them at home. They've ditched the Oakland warehouse and now contract with a Bay Area farm to produce the kits. They are also using waste other than coffee grounds, including sawdust and spent corn cobs, which Arora says gives the kits more consistency.
Back to the Roots still has office space in Oakland and now focuses on producing and commercializing grow-your-own-food products. About 70 percent of the company's business comes from retail accounts with Whole Foods, Safeway, and Home Depot and 30 percent comes from online sales, Arora says.
The company sees potential for new product launches: After years of declining numbers, the percentage of Americans who reported eating homegrown vegetables has leveled off, according to market research firm NPD. NPD also reports that 58 percent of Americans reported buying produce at a farmers market last year.
Back to the Roots may soon capture some of that market when it rolls out a home aquaponics kit. The project raised $249,000 on Kickstarter, more than its $100,000 stated goal. The kit will include a flower pot-shaped fish tank bisected by a vertical tube. The tube transports fish waste from the belly of the tank to a bed that's capable of growing herbs on top of the device.
Haas professor Alan Ross teaches social and political issues of business, the class that inspired Velez and Arora to grow mushrooms in the first place. He's invited them back several times since they graduated to speak to new students, and he also routinely helps Back to the Roots find student interns. Ross says Velez and Arora epitomize what he tries to drive home to students: that sustainable enterprises can also be profitable.
"Almost every aspect of the course I teach, they are doing by the book," he says.
Join the discussion on the Bloomberg Businessweek Business School Forum, visit us on Facebook, and follow @BWbschools on Twitter.