Will the Supreme Court Back the Business Case for Gay Marriage?
Paul M. Barrett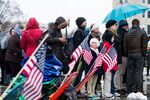 This week we could get our first hint of whether the Supreme Court cares what big business thinks about gay marriage.
Tech titans Apple, Facebook, and Intel are all urging the justices to back same-sex marriage rights in the highly anticipated cases teed up for oral arguments.
On Tuesday, the high court will consider the constitutionality of California's Proposition 8, a 2008 ballot initiative that stopped gay marriage in the state after it had been allowed for five months.
The business case against Prop 8 and similar bans in 40 other states boils down to pragmatic management. Bias against gay employees harms workplace morale and hurts recruiting, the companies say in a friend-of-the-court brief: "No matter how welcoming the corporate culture, it cannot overcome the societal stigma institutionalized by Proposition 8 and similar laws." Other big corporations backing gay marriage include Abercrombie & Fitch, American International Group, EBay, Morgan Stanley, Nike, Office Depot, Oracle, Panasonic, Qualcomm, Xerox, and Zynga.
You can find all of the briefs in the Prop 8 case here.
An even larger group of companies—more than 200, including Goldman Sachs, Google, and Microsoft—is urging the justices to use a second case, scheduled to be argued Wednesday, to strike down a key provision of a 1996 federal law that defines marriage exclusively as a heterosexual union. Under the Defense of Marriage Act, known as DOMA, legally married gay couples can't claim federal tax breaks and other benefits available to opposite-sex spouses.
There is some overlap between the two groups of companies filing briefs in the cases. The legal papers in the DOMA case are here.
Former President Bill Clinton, who signed DOMA into law, has since said he changed his mind. As a matter of principle, Clinton, like President Barack Obama, now supports full rights for gay spouses. In contrast, the companies opposing DOMA emphasize the practical headaches it causes for human resource departments, which have to make special arrangements for employees whose spouses don't qualify for various benefits and legal protections.
Does the Supreme Court care when business weighs in? The justices' questions Tuesday and Wednesday could provide an early foreshadowing of whether the corporate position matters. As Bloomberg News' Greg Stohr has astutely observed: "Although the high court often ignores so-called friend-of-the-court briefs, at times they can shape the way some justices view a dispute. When the court upheld university affirmative action in 2003, the majority opinion relied on briefs filed by corporations and former military officers touting the benefits of racial diversity."
Let the arguments begin.
Before it's here, it's on the Bloomberg Terminal.
LEARN MORE