University of North Carolina Gets Second Sex Assault Review
John Lauerman and Callie Bost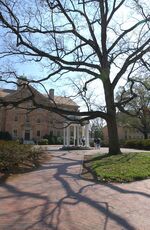 The University of North Carolina at Chapel Hill will undergo an Education Department review of its reporting of sexual assaults, the second federal probe of the college's practices to be announced this month.
The review will begin April 2 and will examine UNC's compliance with the Clery Act, according to a letter dated March 21 that was posted on the university website. The Clery Act requires that universities submit reports of sexual assaults and other violent crimes to the department.
UNC said March 8 that the Education Department's Office for Civil Rights was investigating the university's compliance with the Title IX legislation, which prohibits discrimination on campus after five people complained about its response to sexual assaults. That complaint, lodged in February, said that the school was regularly underreporting campus crime statistics, the Education Department said in its letter.
"The objective of the program review is twofold; the review team will evaluate the complainant's allegations as well as the university's overall Clery Act compliance," according to the letter.
Violations of the Clery Act can result in fines and can affect a school's eligibility for federal student aid, according to the letter.
The university will cooperate with the review, Chancellor Holden Thorp said.
"Protecting the safety and well-being of our students is one of the university's highest priorities," Thorp said in a statement on the UNC website dated March 22. "The review is an opportunity to make additional improvements if needed."
Before it's here, it's on the Bloomberg Terminal.
LEARN MORE