The Postmaster General May Have Washington's Worst Job
USPS Chief Executive Can't Cut Costs
By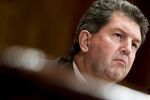 Is U.S. Postmaster General Patrick Donahoe the most powerless man in Washington? It certainly seems so. The influential Government Accountability Office said March 21 that the USPS doesn't have the legal authority to carry out Donahoe's plan to eliminate Saturday letter delivery this summer.
The GAO finding came on the heels of another setback for Donahoe. The House and Senate passed legislation last week that would preserve Saturday service over the objections of the USPS.
The matter isn't settled yet, as President Obama must bless the legislation. Meanwhile, the USPS insists that that the GAO's opinion is flawed—but it doesn't look promising for Donahoe. He was counting on curtailing Saturday mail delivery in August to lower costs at the USPS. The agency is losing $25 million a day because of the decline of first class mail and a nettlesome 2006 law requiring it to prefund its retiree health benefits. The postmaster general promised that his plan would save $2 billion per year.
The week's events underscore Donahoe's inability to ease the USPS's fiscal suffering. Something similar occurred in July 2011, when he unveiled a much discussed plan to close 3,200 post offices, many of which were rural operations that generate enough revenue to cover their costs. Small town residents and their congressional representatives cried foul. Postal worker unions protested.
Donahoe suspended the effort in December 2011 at the wishes of 15 Democrat senators who asked for time to draft a reform bill that would ease the postal service's financial burden. Instead, the Senate ended up passing a bill last April that would put further restrictions on his ability to shutter post offices.
The Senate postal reform bill is now in limbo. Yet in May, the USPS abandoned its sweeping post office closure proposal. "We've listened to our customers in rural America and we've heard them loud and clear—they want to keep their Post Office open," Donahoe said at the time.
The reversal shows how conflicted Donahoe, a career USPS employee, is himself when it comes to rolling back services at the national mail service. "Patrick doesn't want to do this stuff," says Richard Geddes, an associate professor of policy analysis and management at Cornell University who studies the USPS closely. "He doesn't want to go before Congress and be berated. I think this is a cry for help."
Yet nothing seems to change. Donahoe's critics have characterized his proposals as extreme. But so are the circumstances plaguing the USPS. It is expected to run out of cash in October. Neither of these plans would have generated enough savings to swing the USPS back into the black, but combined, they would have been a start.
Those who don't approve of the postmaster general's approach say that Congress should simply waive the USPS's obligation to prefund its retiree health benefits. Donahoe doesn't disagree. In fact, he advocated this himself early in his tenure, but the White House wasn't interested. Neither were House Republicans who described it as a taxpayer bailout.
So Donahoe finds himself in an unenviable position. The losses at the USPS continue to mount, and there is little he can do about it—which is what happens when you are powerless.
Before it's here, it's on the Bloomberg Terminal.
LEARN MORE