The Latest Passover Delicacy: Artisanal Gefilte Fish
The Gefilteria is a tiny Brooklyn startup that's reclaiming the taste of gefilte fish
By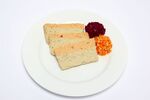 I've only once eaten the polarizing Jewish dish known as gefilte fish—and it isn't necessarily an experience I'd like to repeat. Then again, I was subjected to the grayish, spongy Manischewitz variety that comes suspended in a jar of bleak, brown goo.
There are other, more palatable versions of the Passover staple. The Gefilteria, a tiny Brooklyn startup, last year began selling loaves of artisanal gefilte fish: While the standard jarred sort is often made from carp, mullet, and pike mixed with Matzo Meal and other fillers, Gefilteria's ingredients include fresh salmon and trout, and no fillers other than onions and seasoning. "It's really a completely different product," says Jeffrey Yoskowitz, one of the startup's three co-founders. "It's fresh, so it's less fishy … and because we don't use fillers, the texture is more dense, almost like a pâté or a terrine." The product, which is freeze-blasted to maintain freshness, can be found in the frozen foods section of some gourmet markets.
Yoskowitz, 28, first came up with the idea of launching a boutique gefilte operation while attending a Jewish food conference in the Berkshires. The challenge, as he saw it, was to make an essential Jewish Ashkenazic food in accordance with America's new "Michael Pollen/Alice Waters-style" eating regime. "Our mission is to create a Jewish food brand that speaks to the values of our generation," he says. "Kind of 'Whole Foods meets Manischewitz.'"
The startup's artisanal gefilte is likely closer to the original gefilte fish, which was made with the freshest possible ingredients. "Jews who didn't have constant access to fresh fish would keep carp in their bathtubs," says Yoskowitz. "This food that somehow, at some point, got stuffed into a jar was really valued and cherished to the point where families wouldn't bath for a week so they could eat the freshest quality fish on the holidays."
Since opening shop last spring with the help of a Chase Bank small business loan, the Gefilteria has raced to keep up with demand. Last Passover, it sold out of its 200 gefilte loaves—both demi-loaves ($16) and family-size loaves ($28)—in just days. This year, the venture, which has scaled up and now sells through such food retailers as Gourmet Garage and Zabar's, has already sold more than 1,400 loaves. It has also shipped its pink-and-white gefilte to customers in California, Tennessee, Oklahoma, and Iowa.
There's not much competition. Some small stores and restaurants make their own gourmet gefilte for the holidays, and people can buy frozen gefilte "logs" and cook them with homemade seasonings—but the Gefilteria claims to make the only fresh, ready-to-eat product currently on the market. The company also sells an assortment of other goodies, not all of which are seasonal. Its Carrot Citrus Horseradish and Beet Horseradish, which are intended to be eaten with the gefilte, can, for example, be used in cocktails, says Yoskowitz.
Eventually, Yoskowitz hopes his company's fresh gefilte loaves will help bring more love to the highly contested dish. "One of our goals is to make it so that it's not just something people eat at Passover, but to get to a point where people having dinner parties feel comfortable serving it as they would a pâté."