Pro Athletes Score With Jamba Juice Franchises
Ben Paynter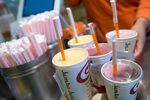 Star athletes just can't catch a break in the restaurant business. In 2008, Miami Heat guard Dwyane Wade was forced to shutter both of his critically panned, Florida-based D. Wade Sports Grills just months after opening. Football player Michael Vick closed his Atlanta wine bar, the Tasting Room, recipient of a single star on Yelp, in 2007. Over the years, restaurants headed by Don Mattingly, Jim McMahon, and an ownership team comprising Wayne Gretzky, Joe Montana, and Shaquille O'Neal—who backed the Cheesecake Factory-size "Official All-Star Café," purveyors of overpriced "stadium food"—failed spectacularly amid poor reviews and empty dining rooms.
Recently, though, a growing roster of professional jocks has embraced a decidedly less greasy culinary item: the Pomegranate Pick-Me-Up.
Last month Jamba Juice added 49ers tight end Vernon Davis to its list of franchisees. Davis agreed to buy one existing juice bar and open two more in Santa Clara, Calif., effectively cornering the market for smoothies at the site of the 49ers' new home stadium next season. Tennis star Venus Williams and former NBA great LaPhonso Ellis moonlight as fruit-shake mini-moguls, too. Williams owns several locations in Washington, D.C., and Bethesda, Md., and has plans to expand. Ellis opened his own set of Jamba Juices around his alma mater, the University of Notre Dame in South Bend, Ind.
Sure, athletes mindful of their physique may enjoy such Jamba Juice menu items as the "wheatgrass detox" shot—or knock back the occasional shake laced with protein—but they're drawn to the chain because it's a simple and lucrative investment for the rookie businessman. "Jamba Juice just feels safe," says Davis. "The thing is, the financial statements tell you if it's winning or losing. You don't have to do anything else. The biggest two things are labor and produce. If you can maintain those two items, you are on your way."
Like lottery winners, sports stars are renowned for bad business decisions. According to a Sports Illustrated investigation in 2009, more than 60 percent of retired NBA players (who earned $1.9 million, on average, in their playing days) and 78 percent of NFL football players (who earned $5.5 million, on average) go broke after they stop playing. Former New York Jets quarterback Mark Brunell blew through tens of millions of dollars on an array of investments that included a fast food burger franchise. Hall of Fame pitcher Rollie Fingers lost $8 million betting on alternative energy, Arabian horses, and pistachio farms. Weeks ago, San Francisco pitcher Barry Zito filed suit against a fitness software company for allegedly bilking him of $3 million.
Unlike the headquarters of a tech company, the typical Jamba Juice shop fits snugly in a space of 1,200 to 1,400 square feet. It requires just a few employees to work the registers and operate blenders. Stores are intended to be pit stops, not hangouts. In recent years the company expanded to offer flat breads cooked in Turbo Chef ovens to help offset seasonal sales dips, but manning the appliance requires barely any training. "Jamba Juices seem to be streamlined for efficiency," says Conrad Lyon, a senior equity analyst at B. Riley & Co. "In some locations, there literally might just be a bunch of blenders, and that's it." Even so, a single Jamba Juice outlet generates about $700,000 in annual revenue.
This is all driven by the fact that the core product—fruit smoothies—is virtually impossible to screw up. The ingredients arrive frozen and are meant to stay that way, even after being served. That cuts down on lost food costs and adds shelf life. If a less-than-precise server plunks in too many bananas or forgets to add enough strawberries, the difference in taste is hardly discernible. "I'd prefer to say that all the mistakes are delicious," says James White, Jamba Juice's chief executive.
Joe Favorito, a sports marketing consultant and professor at Columbia University, says that professional athletes and Jamba Juices are a perfect match. "It's a simple product: You don't have to take 25 minutes explaining it to someone," says Favorito. "And I think there really is a vested interest, because it really is a part of their lifestyle."
Today, Jamba Juice has expanded to 809 stores globally and pulls in about $229 million in annual revenue. The company says it wants to open 60 to 80 stores this year. White says he's approached by at least half a dozen stars a year hoping to join the team.