PICC Group Falls After Profit Misses Estimates: Hong Kong Mover
Bloomberg News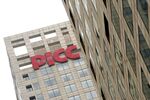 People's Insurance Company (Group) of China Ltd., parent of the nation's biggest non-life insurer, declined to the lowest in almost three months after its 2012 profit missed analysts' estimates.
Net income climbed 32 percent to 6.83 billion yuan ($1.1 billion), or 0.2 yuan a share, in 2012 from 5.19 billion yuan, or 0.16 yuan a share, a year earlier, Beijing-based PICC Group said in a statement to the Hong Kong stock exchange yesterday. The profit compares with the 7.7 billion yuan mean estimate of 14 analysts surveyed by Bloomberg.
"The level of underwriting profitability can't be maintained this year as there's considerable pressure from rising costs on the property-insurance side," said Li Wenbing, a Beijing-based analyst at Bocom International Holdings. "Competition in the industry is getting more and more intense," he added, citing looser risk selection and pressures to cut prices to attract clients among insurers.
The stock fell 2.6 percent to HK$4.19 at the close in Hong Kong. The decline trimmed the rally since its trading debut to 20 percent.
PICC Group raised HK$24 billion ($3.1 billion) in Hong Kong in November in the city's largest initial public offering in two years, paving the way for Chairman Wu Yan to expand premiums as the world's second-biggest economy rebounds. Net income at PICC Property & Casualty Co., the main profit contributor, climbed 30 percent after the unit's underwriting profit margin rose to the highest since its shares first traded in 2003 in the first half of last year on tighter control over claims and expenses.
Claims, Expenses
The combined ratio, used to gauge claims and expenses as a percentage of premiums earned, at PICC P&C, the main non-life unit, rose 1.1 percentage point to 95.1 percent last year, according to the statement. That compared with a record low of 92.4 percent in the first half of 2012. The unit said in a separate statement that its underwriting profit fell 5.4 percent to 7.58 billion yuan after acquisition costs and other underwriting expenses jumped 45 percent.
"Neither property insurance nor other operations was desirable," said Olive Xia, a Shanghai-based analyst at Core Pacific-Yamaichi International Ltd. "Their stocks position is highest among peers, making it very hard for them to deliver great investment performance this year," she added, citing investor concerns that recent declines in the stock market may herald another difficult year for insurers.
China's benchmark Shanghai Composite Index dropped 1.3 percent today, extending the decline from its recent peak in February to 5.6 percent.
More Equities
PICC Group boosted equity holdings by 3.2 percentage points last year to 15.7 percent of its portfolio, while Ping An Insurance (Group) Co., China's second-biggest insurer, cut such holdings by 2 percentage points to 9.5 percent.
Total income from investments rose 45 percent to 20 billion yuan, the group said. Net investment income, mainly comprised of interest and dividends, climbed 35 percent, offsetting a 60 percent surge in impairment losses amid stock-market declines.
Profit from the life-insurance unit, China's fifth-biggest by premiums, rose 38 percent to 760 million yuan, the group said. The value of new business last year, which gauges profitability of new life policies sold, expanded 8.6 percent, according to the statement.
Ping An, which reported a 3 percent profit increase on March 14, fell 0.5 percent to HK$59.95. PICC P&C tumbled 5.6 percent to HK$10.22.
— With assistance by Dingmin Zhang
Before it's here, it's on the Bloomberg Terminal.
LEARN MORE