business
Michael Jackson's Lender Helps Hedge Funder Falcone
Philip Falcone has turned to Fortress Credit Corp., a former lender to Michael Jackson.
By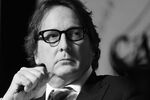 When the very wealthy get very illiquid, they can turn to Fortress Credit for help.
Philip Falcone, the embattled chief executive officer of hedge fund Harbinger Capital Partners, has borrowed from the lender against a seven-bedroom, three-pool villa in St. Barths for which he paid $39 million in 2008, Bloomberg News reported today. Fortress Credit is a subsidiary of Fortress Investment Group, an alternative asset manager, and specializes in high-risk, high-rate loans to big fish in tight spots.
Since the financial crisis, when prescient bets against subprime mortgages helped Harbinger amass $26 billion and made Falcone himself a billionaire, the investor has had a rough few years. Assets under management have fallen almost 90 percent, and Falcone's biggest investment, a wireless Internet service provider, has gone bankrupt. In the interim, Falcone has also borrowed against two Manhattan townhouses he owns, one of which formerly belonged to Penthouse publisher Bob Guccione and sold for $49 million.
Fortress Credit's best-known borrower is none other than Michael Jackson, who took out some $300 million in loans in 2006, partially secured by his Neverland Ranch compound in Southern California. Fortress "is comfortable with, and to some degree specializes in, difficult credits, difficult borrowers and difficult situations," the company says on its website. "The Credit team is very focused on properly pricing, structuring, collateralizing, monitoring and, if necessary, litigating to maximize the value of credit investments."
The division made about $4 billion of loans and commitments last year, Bloomberg reported. Fortress Credit is led by Peter Briger, a former partner at Goldman Sachs who is now FIG's co-chairman, and Dean Dakolias. "Wall Street's Garbage Men," reads the headline of an article about Fortress in a private equity publication, which is posted (PDF) on the firm's website. "Fortress Investment Group is getting its hands dirty salvaging value from a real estate opportunity with an estimated value of $2 trillion." Another article, in Institutional Investor, labels Briger and his team "junkyard dogs"—but also calls the former prop trader a "titan of finance" who became a billionaire taking Fortress public in 2007.
The parent company had net revenue of $1 billion and operating income of $111 million in 2012.
Before it's here, it's on the Bloomberg Terminal.
LEARN MORE