A Showdown in Stockton Pits Pensioners Against Bondholders
By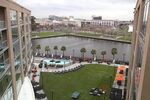 In California today, a federal judge is scheduled to start a four-day hearing that will help determine whether pensioners or bondholders should feel more pain from a city's bubble-era excesses.
The judge is hearing arguments over whether the California city of Stockton should be allowed to get federal bankrupt protection. A decade ago, Stockton went on a building binge, issuing bonds to redevelop its downtown with new projects that included a waterfront sports arena and a new marina. Then the housing bubble burst—and took the city's economy and tax revenue along with it. The city wasn't able to meet its obligations, even after making budget cuts.
That led the city to file for Chapter 9 bankruptcy protection in federal courts, a special type of bankruptcy reserved just for municipalities. To be eligible for the protection, a city must must have approval from the state, must be insolvent, and must have made "good faith" efforts to negotiate with creditors. Whether Stockton met those requirements is the question before the judge this week. If the judge approves a Chapter 9 filing, a city like Stockton has more freedom to choose where to make cuts and restructure debts than companies get in Chapter 11.
Stockton wants the flexibility of Chapter 9 protection to choose which creditors to favor—in particular, it wants to maintain current pension obligations while forcing Wall Street bondholders to take a hit. This would be a big deal, because as Bloomberg News reports, "No city or county since at least the 1930s has used the power of a U.S. bankruptcy court to force a reduction in the principal on its debt." In separate cases, two other cities—Jefferson, Ala., and San Bernardino, Calif.—are also petitioning for Chapter 9 protection.
Bondholders are crying foul, arguing that Stockton doesn't deserve bankruptcy protection because, they say, the city isn't really insolvent and it didn't make "good faith" efforts to negotiate with creditors (two of the three conditions of Chapter 9). If the judge agrees with bondholders, Stockton would be stuck dealing with its financial troubles in state court, which make it easier for creditors to force budget cuts, asset sales, and tax increases—and more shared pain with CalPERS, the state pension fund. If Stockton prevails, the ruling could pave the way for the city to force the principal cuts on bondholders—and set a precedent for other cities to do so.
We'll keep you posted on what the judge ultimately rules and how that will set the stage for who will bear the brunt of the cuts.
Before it's here, it's on the Bloomberg Terminal.
LEARN MORE