pursuits
Carly Fiorina on Marissa, Sheryl, and Women in Tech
By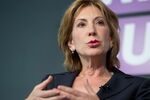 Before Marissa Mayer and Sheryl Sandberg became the faces of female leadership in Silicon Valley, there was Carly Fiorina. She stepped into the CEO job at Hewlett-Packard in 1999, the first woman to run a Fortune 20 company. Fiorina famously declared that there was no glass ceiling. By 2005, when she was pushed out after a rocky tenure, Fiorina had a very different view. She's since penned a memoir, ran for U.S. Senator from California, and launched the One Woman Initiative to empower women in the Muslim world.
So what does Fiorina, 58, make of Mayer, chief executive officer of Yahoo!, halting employee telecommuting and Sandberg, chief operating officer of Facebook, campaigning to have women "lean in" and stick with their careers? I caught up with Fiorina on Feb. 27 in New York, where she gave the annual leadership lecture for search firm Harvey Nash.
What do you make of the reaction to Sheryl and Marissa?
Men disagree all the time and it's not talked about in a gender-laden context. So why is it that when women disagree, the conversation is all about gender? The media kind of likes a catfight, so you have Ann-Marie Slaughter and Sheryl have different points of view. What a shock. People have different points of view all the time.
Let's break it apart. Marissa is being pilloried for telling her employees they can't work from home, especially as she's now a working mother. Is she right to want everyone at the office while this company is in crisis?
I think the telecommuting discussion is interesting. We're grappling with both the limits and the possibilities of what technology makes possible. There's no doubt in my mind that every organization I've been a part of has benefited enormously by the existence of telecommuting options that give everyone—but most especially women—the opportunity to balance an enormously complicated life. I applaud the tools. But sometimes there's no substitute for face to face.
Is this one of those times for Yahoo?
I tend to shy away from either-or answers. I think it's all about balance. I would always want a viable telecommuting option available to everyone in the organization and I'd want to be able to say, "Today we need you in the office."
You were in the spotlight as a female CEO. When you look at these women, does the attention feel different?
I think it has gotten better. There are more women CEOs. But women are subjected to a higher level of scrutiny and criticism than men, in every field.
Did you talk much about being a woman when you ran HP?
I was hesitant to speak about gender more than anything else. I tried to speak to all of our workforce. I was never politically active as a CEO, either. I felt it was important that I represent all of the company, not just some of the company. Obviously my heart is in helping more women and girls achieve their potential. That's where I spend a lot of my money now. But a CEO always has to be careful to remember that they represent the company and everyone in it.
Has the culture of Silicon Valley changed?
The fact that we're so laser-focused on these two women says something, doesn't it? Silicon Valley fixates on people at the top, whoever they are. There's this culture of the startup story, the iconic founder, so it's in the water there. We've made some progress but there's a long way to go. If Marissa and Sheryl were men who were making these kinds of pronouncements, given the importance of their companies, they would still get a lot of attention. Yahoo is a big company in the midst of yet another turnaround attempt. Attention will be paid to their CEO. Is the attention hotter, more critical, because she's a woman? Probably. Women get more scrutiny than men. That's just a fact.
What advice do you give to young women?
Recognize the reality that many of your co-workers, because they are men, will view you in a certain way. Some of them will be protective of you. Some of them will be threatened by you. Some will be genuinely interested in your development. Be realistic that you'll run across some attitudes that are frustrating. But don't get a chip on your shoulder. Don't make it your problem. Being here is a relatively new phenomenon in human history.
Do you think too few women lean in and stay committed to their careers? Was that a problem in your peer group?
Women are more likely than men to get hurt by what people say about them. Don't. Just accept that people will talk about you. Don't dwell on it. Just keep going. It was more important to me to do the job I was hired to do. No matter what you do, people will talk about you.
(
Corrects to say that Carly Fiorina ran for Senator, not Governor of California
)
Before it's here, it's on the Bloomberg Terminal.
LEARN MORE