The Best #GingrichSantorum2012 Campaign Slogans
Jared Keller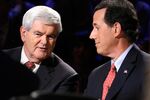 Bloomberg Businessweek's senior national correspondent, Joshua Green, uncovered an untold story from the 2012 election cycle: former House Speaker Newt Gingrich and former Senator Rick Santorum, then contenders for the Republican presidential nomination, considered running together on a joint 'Unity Ticket' to bring together the party's conservative factions and defeat Mitt Romney. Green reports on the rise and fall of the unlikely duo:
"We were close," former Representative Bob Walker, a Gingrich ally, says. "Everybody thought there was an opportunity." "It would have sent shock waves through the establishment and the Romney campaign," says John Brabender, Santorum's chief strategist.

But the negotiations collapsed in acrimony because Gingrich and Santorum could not agree on who would get to be president. "In the end," Gingrich says, "it was just too hard to negotiate."
With the 2012 campaign a distant memory, it's difficult to imagine what a Gingrich-Santorum campaign might have looked like. So we asked our Facebook and Twitter followers to submit their best Gingrich-Santorum 2012 campaign slogans, using the hashtag #GingrichSantorum2012. Here's what they came up with:
Economic blog Modeled Behavior:


Washington Post features writer Dan Zak:



Media Matters research fellow Simon Maloy (with Joren Bass):


Before it's here, it's on the Bloomberg Terminal.
LEARN MORE