Mary Pat Christie Juggles Roles as Political Facilitator
Elise Young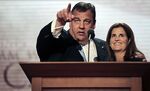 New Jersey Governor Chris Christie drew laughs at the Pine Brook Jewish Center in Montville last month as he explained the "ugly truth" of his 27-year marriage: His bond-trader wife is his meal ticket.
The governor, a first-term Republican seeking re-election, often boasts that his spouse is the reason he could give up his career as a lawyer and enter politics. A managing director at Angelo Gordon & Co., Mary Pat Christie is the main earner. She also juggles raising four children and oversees a $33 million Hurricane Sandy charity.
Her role is shared by a minority of U.S. women, and even fewer in politics. Thirty-eight percent of wives made more than their husbands in 2011, according to the Bureau of Labor Statistics. In governors' homes, spouses more often choose volunteerism over high-powered professions. For Mary Pat Christie, 49, giving up the day job isn't an option.
"I've always been the breadwinner," she said during a March 12 telephone interview. "I really just wanted him to be happy in his career, and he is."
Not that a New Jersey governor makes pocket change; the $175,000 salary makes it the state's highest-paid public office. Nationwide, New Jersey is tied with Virginia for fifth-highest governor pay, according to the California Citizens Compensation Commission, which sets pay for office holders.
Working Wives
Mary Pat Christie in 2011 earned $307,372 from Cantor Fitzgerald LP, where she was a part-time vice president in Summit, New Jersey. She joined New York-based Angelo Gordon in September, where she works full time on strategic planning and marketing, focusing on bank debt and distressed funds.
More typical governors' wives concentrate on parenting and volunteer work, according to biographies on the website of the Washington-based National Governors Association.
One exception is Diane Patrick, wife of Massachusetts Governor Deval Patrick, who is a partner at Boston law firm Ropes & Gray LLP. Anne Gust Brown, wife of California's Jerry Brown, resigned as Gap Inc.'s chief administrative officer and now has an unpaid position of special counsel to her husband. Hillary Clinton and Michelle Obama worked as lawyers before their husbands were president; Laura Bush, wife of President George W. Bush, was a librarian and schoolteacher.
Community Property
Christie blames himself for the world's knowledge of his family finances. At town-hall meetings, he often talks about releasing eight years of tax returns when he ran for governor.
"Some of my friends called me to give me a hard time," Christie said in Montville. When one buddy asked whether being outearned was emasculating, the governor said he replied:
"Listen, I just have three words for you: joint checking account. That money all lands in the same place, baby. It's fine by me."
At the Republican National Convention in Tampa on Aug. 28, Mary Pat sat alongside Ann Romney and her husband, presidential nominee Mitt Romney, as Christie gave the keynote speech. Two months later, the governor told Romney he would skip the last week of campaign appearances: Hurricane Sandy was bearing down.
Sandy struck New Jersey on Oct. 29, decimating shore towns and twisting boardwalks and amusement piers. Christie surveyed the devastation, which would total $36.9 billion, and told Mary Pat to start raising money. Angelo Gordon told her to take 90 days of paid leave; she was back in 60.
Boss Enlists
She set up the Hurricane Sandy New Jersey Relief Fund as a nonprofit organization and mined bond-desk contacts, plus Democratic and Republican circles and community leaders, for board members. She recruited U2 singer Bono and her husband's hero, New Jersey native musician Bruce Springsteen, to drum up contributions, and begged for donated office space and ads.
Roberto A. Mignone, founder of Manhattan-based hedge fund Bridger Management and a Sandy fund board member, said he arrived at a committee meeting to find Mary Pat "hustling" on the phone in a borrowed cubicle as if orchestrating a bond deal.
"One of the things that makes him popular, right, is 'What you see is what you get,'" Mignone, 41, from Yonkers, New York, said of the governor. "They have extremely different styles, but the 'What you see is what you get' is really important with her, too."
Mary Pat drew scrutiny this month after the Asbury Park Press reported that her fund hadn't yet distributed any money, even as the New York-based Robin Hood Foundation had awarded $55 million. Some shore residents were quoted as saying they needed donations sooner, not later.
Spending Deliberately
Critics "have no sense of the enormity of what we're doing and the responsibility of managing $33 million of assets," she said.
"I want to purposely keep the expenses low, so if it takes us a little longer to get the money out there, I think, in the long run, since the victims will receive more of the money, it will have been a good decision," she said.
At a March 11 news conference, the governor said he isn't involved in the fund's day-to-day operation and that his wife is a good steward.
"Her concept of this fund, at the beginning of which board members were told, is that it would be a long-haul organization, not one that would jump in and throw a lot of money at the problem early," he said.
The Christies met at the University of Delaware as undergraduates in student government. The then-Mary Pat Foster started as an engineering major at her father's urging, and switched to finance when advanced calculus proved uninspiring.
Presidential Dynasty
Chris Christie, a year older, was student body president his senior year. Mary Pat ran for the job next and become the first female president in 14 years, according to an April 1984 editorial in The Review, the student newspaper. Christie had left "rather large shoes to fill," the paper said.
Timothy Brooks, dean of students until his 2001 retirement, recalled turning to Mary Pat for advice, just as he had sought out Christie a year earlier.
"She led more by listening, by understanding situations, by developing really good decisions, and Chris was much more of an 'I've got the answer!' type," Brooks, 67, said in a telephone interview from his home in Newark, Delaware.
By her term's end, Mary Pat had defeated a petition to defund a gay and lesbian organization; led 55 classmates to protest higher tuition at a legislative hearing; and organized an unsuccessful drive to raise fees for weekend activities as an alternative to binge drinking.
Commuter Students
Chris Christie graduated in 1984 with a political science degree, and Mary Pat in 1985; they married the next year. Their first home was a rented apartment in Summit, where they lived as they attended Seton Hall University, he on the Newark campus for a law degree, and she in South Orange for a master's in business administration.
In 1989, when she started handling institutional sales at Jefferies and Co., her husband was at the law firm of Dughi, Hewit & Palatucci. At the time, she was among the 24 percent of U.S. women who outearned their spouses.
Mary Pat was drawn to bond trading, a niche among securities, commodities and financial-services sales where women hold just 28 percent of the jobs -- about the same percentage employed as bailiffs and prison guards, according to the Labor Statistics Bureau.
"It never really struck me, as I was going into it, that it was a male-dominated industry," she said.
Debt Hunter
She chased whichever debt was hotter, high-yield or distressed, in a career that included the Mendham Capital boutique she co-founded, JPMorgan Chase & Co., Fleet Securities Inc. and Seaport Group LLC.
A flirtation with retirement after the birth of the couple's fourth child in 2003 ended after 14 months, when Michael Meyer, co-head of sales and trading at Seaport, persuaded her to return part time, working at home and in Manhattan. Next she negotiated a job-share at Cantor Fitzgerald, commuting to Summit from the Christie home in Mendham Township. By the time Christie was elected, the children -- Andrew, Sarah, Patrick and Bridget -- were school-age.
"What I did want to focus on back in 2009, or 2010, when we actually took office, was trying to define the role of first lady in a way that I could manage it, and a way that I could still do my job, that provides for my family, and that I find interesting," she said.
Campaign Conditions
At a March town hall in Florence, Christie told the crowd about promises Mary Pat extracted in the event he won the 2009 race. The first was not to move to the governor's mansion in Princeton so the children wouldn't have to switch schools. The second was that he wasn't allowed to whine.
"I don't complain about the job, not only because I'm afraid of my wife, and I am, but also because I love this job," Christie said.
The governor, who turned down Republican fundraisers' calls to run in the 2012 presidential election, hasn't ruled out a bid for 2016. Before the Republican National Convention, Mary Pat's public profile was low-key, said Brigid Harrison, a Montclair State University professor of law and politics.
"It was not the kind of out-front political wife that you see, like Michelle Obama or Hillary Clinton," Harrison said. Should Christie seek the presidency, she said, advisers may tell Mary Pat to stress her role as helpmate more than breadwinner.
They might have her fill a "rather traditional role as a very supportive spouse," Harrison said. "That would be appealing in those staunchly conservative states in the middle of the country."
Before it's here, it's on the Bloomberg Terminal.
LEARN MORE