How to Stand Out in an MBA Group Interview
Francesca Di Meglio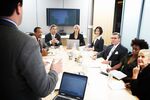 It's human nature to be uncomfortable with the new and unknown. It's not surprising, then, that many current MBA applicants are concerned about the new trend of B-schools requiring them to take part in group interviews.
IMD in Switzerland, University of Pennsylvania's Wharton School, and University of Michigan's Ross School of Business require applicants to work in a group as part of the application process. While each is slightly different—IMD is a case study, Wharton provides questions ahead of time, and Ross features random words—the team element is the same. Therefore, there are ways applicants can prepare and alleviate some of the stress. Here are some tips for acing the group interview:
Take a backseat
The team interview is about group dynamics and one's interpersonal skills, says Linda Abraham, president and founder of the admissions consultancy Accepted.com. "The individual applicant must put the success of the group first," she adds. "It's not an air-time contest." In other words, you must be ready to let others do the talking if they have good ideas, and you should encourage those in your group who are staying quiet to pipe up. Speak when you have something genuine and important to share that will help the group perform whatever task is in front of you, Abraham says.
Do your homework
Part of what produces anxiety is not knowing what you're getting into. Ahead of the team interview, find out the school's format and what is being tested, suggests Graham Richmond, co-founder and chief executive officer of the admissions consultancy Clear Admit. Along with his colleagues, Richmond has determined that schools use the team interview to observe applicants' active listening skills, ability to talk off-the-cuff, communication skills, intellectual curiosity, and ability to work well with others. Of course, the assessment will vary from school to school, Richmond adds, but these are good starting points for preparation.
Know thyself
Once you know some of what is being observed in the group interviews, you can work on those skills, based on your own strengths and weaknesses. "The entire application process is one big thought exercise," says Ankur Kumar, the director of MBA admissions and financial aid at Wharton. "The best advice I can give a candidate is to go through the process of self-reflection." The application itself will kick-start the questions: Why the MBA? Why now? What do I want to do with the rest of my life? The challenge for applicants, Kumar says, is finding the time to think about their answers. "You can't wait until the last minute," she says. The better you know yourself as an individual, the better you'll understand how you operate in a team.
Don't over-rehearse
The admissions committees at Wharton and Ross say that part of the reason they have adopted the team interview is so that applicants will have to improvise and can't prepare in the way they do for the essays and one-on-one interviews. While you should practice speaking in front of others and giving thought to how you present yourself, you should not recite a memorized speech or read cue cards, says Soojin Kwon, director of admissions at Ross. "We want to see what candidates are like when they're unscripted," she says. "We want to see them think on their feet."
Join the discussion on the Bloomberg Businessweek Business School Forum, visit us on Facebook, and follow @BWbschools on Twitter.