business
Fewer Women Are Choosing College Business Programs
By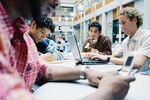 The University of North Carolina at Chapel Hill had a question for women undergrads who had expressed interest in an economics major: Would you consider attending the business school? For the first time this year, the women were invited to participate in focus groups to discuss their career goals, and a representative of the school's Kenan-Flagler Business School spoke about the 10 different concentrations available, ranging from consulting to international business.
"We tried to break down myths," says Lawrence Murray, director of the undergraduate program at Kenan-Flagler, where 40 percent of undergrads are women. One of those myths, he says, was that all business majors aimed to work in finance. Another, he adds, was that the economics and business programs accomplish the same things.
There's a reason the school went to such lengths to recruit women, who are viewed as critical to many B-schools' diversity efforts. Although women make up about 50 percent of college business graduates nationally, according to the most recent data from the National Center for Education Statistics (NCES), female representation at stronger undergraduate business programs was about 44 percent this year, down from 47 percent in 2008, according to data collected by Bloomberg Businessweek for its latest ranking.
Those figures have the potential to slip further: Of incoming college freshman who said they intend to major in business, about 39 percent in 2012 were women, down from about 42 percent in 2006, according to annual surveys conducted by UCLA's Higher Education Research Institute (HERI).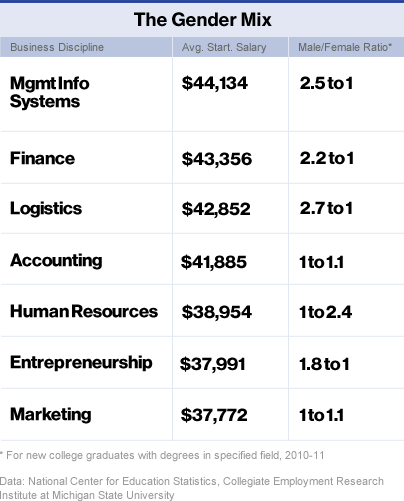 One factor contributing to the decline may be that health-related degrees are siphoning away women. The percentage of incoming female college freshmen indicating they will major in a health profession rose each year from 2007 through 2012, to 19.4 percent from 16.7 percent, according to HERI. Women graduated with these types of degrees 5.7 times more than men did, according to NCES.
In Bloomberg Businessweek's survey, women were 1.3 times more likely than men to concentrate on health-care management and policy and international business. They were 1.6 times more likely to concentrate in marketing. Men, on the other hand, outnumbered women 2 to 1 in finance, entrepreneurship, information management, and environmental policy and management. Accounting, general management, and e-commerce had near gender parity.
Among students nationally (see table) the breakdown is similar, with the data showing women gravitating to lower-paid fields such as human resources and men pursuing careers in higher-paid fields such as finance. One area where there wasn't as sharp a gender contrast among respondents was in supply-chain management and logistics—one of the highest-paying business fields for new graduates. Men at institutions surveyed by the magazine were only 1.3 times more likely than women to graduate with a business degree in logistics, compared to more than two times nationally.
To boost participation among women in certain fields, employers are reaching out earlier and earlier, says Elissa Ellis-Sangster, executive director of the Forté Foundation, a consortium of companies and business schools working to advance women in business. She praises accounting firms for recruiting women on campus as early as freshman year and adds that many investment banks have instituted programs that reach out during sophomore year or earlier.
Notre Dame sophomore Cristin Pacifico is an example of the kind of talent such programs attract. The finance and peace studies major says she interned at a Bank of America Merrill Lynch office in her home state of Florida during her senior year in high school. Pacifico parlayed that experience into an internship at Robert W. Baird, a Milwaukee-based investment firm, the summer after her freshman year. This summer she expects to intern with JPMorgan Chase in Chicago.
Pacifico says the early exposure "really helped me hone in on what I wanted to do once I got to Notre Dame and where I wanted to see myself further down the road."
Join the discussion on the Bloomberg Businessweek Business School Forum, visit us on Facebook, and follow @BWbschools on Twitter.
Before it's here, it's on the Bloomberg Terminal.
LEARN MORE