Explaining Obamacare's Baffling Tax Breaks for Small Business
By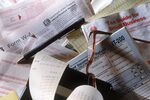 For Obamacare to succeed, its state-run health insurance exchanges must enroll small businesses. But one of the main incentives aimed at encouraging enrollment, a health-care tax credit that reduces the cost of providing insurance for the country's smallest employers, is still woefully underutilized, two years after it became available.
Providence (R.I.) accountant Pat Thompson says only about 1 percent of the 2012 returns she is preparing will claim the small business tax credit. "The IRS is doing a good job with the marketing, but the qualifications for the tax credit are just too narrow and it is very limited," says Thompson, tax partner at Piccerelli, Gilstein & Co., and former chair of the American Institute for Certified Public Accountants' tax executive committee. "Most of our clients are still not taking advantage of it."
Starting in 2014, the tax credit created by the 2010 Affordable Care Act will allow certain businesses with fewer than 25 full-time employees to get a 50 percent reduction in the cost of providing health coverage—if they participate in the exchanges being set up by the states. Since 2010, the credit has offered up to 35 percent off health-care costs to all eligible small employers who provide coverage for their workers.
New data show that a majority of business owners are confused about or unaware of basic tenets of the health-care law. That state of affairs stretches to the tax credits as well, a fact that could blunt the appeal of the exchanges when they open for business on Jan. 1, 2014.
David Chase, an outreach director at Small Business Majority, a lobbying group that supports health-care reform, says his group's polling shows that many small employers are unaware of the tax credit. "The takeup on it is relatively low," he says.
Initially, it was expected that the credits would cost $2 billion in 2010, but in May 2012 the U.S. Government Accountability Office reported that only $468 million in tax credits were claimed by 170,300 small businesses covering 770,000 workers.
That's just over 10 percent of the 1.4 million businesses believed to be the minimum number eligible. By some estimates, as many as 4 million businesses might qualify for the credit, according to the GAO report. The IRS hasn't yet compiled data on the health-care tax credits claimed by small businesses in tax year 2011, according to spokesman Eric L. Smith.
One reason that the credit has been underused is that the country's smallest employers—who get the biggest benefit from the credit—are the least likely to offer health insurance. Only half of all businesses with three to nine workers offered employees insurance in 2012, according to the Kaiser Family Foundation.
Another problem is the complexity of the tax break and the time needed to calculate it. The credit applies fully to companies with 10 or fewer full-time employees who earn on average below $25,000. It phases out as the number of employees rises to 25 and wages go up to $50,000.
Jeff Porter, chair of the AICPA's tax executive committee, says his firm, Porter & Associates in Huntington, W.Va., will charge clients extra for preparing returns that claim the credit. That's because it usually involves one to two hours' extra work on the part of his staff.
"It's incredibly complicated in terms of getting enough information. We have created Excel spreadsheets to deal with it and the IRS has put out bunches and bunches of worksheets," Porter says. For small employers who prepare their own tax returns, trying to calculate the credit themselves would be a Herculean task, he says. "Oh gosh, small business owners generally do not have accounting departments. They don't accumulate employees' hours on a yearly basis. They don't know how much they are paying for insurance for each employee and how much they withhold on an annual basis. It's crazy."
Before it's here, it's on the Bloomberg Terminal.
LEARN MORE