Why Evangelicals Now Favor Immigration Reform
By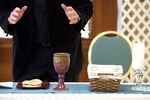 Leaders of the largest evangelical churches came out this week in support of granting citizenship to undocumented immigrants. The liberal approach is a surprising shift for a group so closely affiliated with the most conservative wing of the GOP, and the lobbying push that churches are embarking on in tandem with their new position could have a big impact on Republican leaders in Congress—most of whom are still uncomfortable supporting citizenship because they see it as rewarding lawbreakers.
So far the news reports documenting the shift have focused on new interpretations of the Bible that provide a rationale for immigration reform—particularly a passage from Matthew 25:35-40 that says, "For I was hungry and you gave me something to eat, I was thirsty and you gave me something to drink, I was a stranger and you invited me in." An evangelical writer and Denver Seminary professor named M. Daniel Carroll R. played a big part in the turnaround. His 2008 book, Christians at the Border, caused many ministers and church members to change their thinking, says Barrett Duke, vice president in charge of public policy and research for the Southern Baptist Ethics and Religious Liberty Commission.
But there's another big reason evangelicals are waving the citizenship banner: Hispanics are the fastest-growing group of them. According to the Pew Hispanic Center's 2012 report on religious affiliation, 15 percent of the U.S. Hispanic population is evangelical. That's roughly 7.8 million people—about a million more than in 2007, the last time Congress debated immigration reform.
That means Hispanics are a bright spot for a movement that, overall, appears to be losing numbers and clout. Late last year, in a New York Times piece about the evangelical church's decline, John Dickerson wrote that some evangelical polling groups have found that the majority of young people raised as evangelicals are quitting the church. According to a Pew poll taken in 2011, 82 percent of evangelical leaders surveyed felt their movement was losing ground—more than any other religious affiliation. Twenty-one percent of U.S. residents considered themselves evangelical in 2007, according to Pew; now only 19 percent do.
In other words, the crisis that evangelicals face mirrors that of the Republican Party. And, like the GOP, evangelicals are looking to Hispanics to find a way out of it.
Before it's here, it's on the Bloomberg Terminal.
LEARN MORE