business
Starbucks Expands Its Loyalty Program to Grocery Stores
By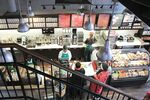 By most standards, Starbucks's loyalty rewards program is successful. As of October 2012, some 4.5 million people had signed up to earn points for shopping at Starbucks, and the company says it expects to double that by October 2013.
Starbucks now wants to reward its customers regardless of where they buy its coffee. The company is expanding its loyalty card program to purchases made outside its own stores—a move that's being called unprecedented in retail. It's certainly unusual. Beginning in May, if you have a loyalty card you can get points (or "stars") for buying Starbucks packaged coffee in grocery stores and elsewhere.
The program isn't seamless. Customers have to peel off a special code on the coffee bag and enter the number into their online accounts, but Starbucks spokeswoman Linda Mills says it will be simple and quick. "We think this is easiest for the customers and for the retailers," she says. "It should take less than a minute." Each bag of coffee is worth one star; 12 stars gets you one of anything you want at a Starbucks store.
With 80,000 new members each week, Starbucks's loyalty program—which provides the company with information about who's buying what, where, and when so it can target its advertising—is already growing quickly. The appeal in expanding the program is clear: Starbucks will have even more data about consumers' buying habits. The question remains whether the multistep process will test customers' patience as much as it rewards their loyalty.
(
Corrects number of active members in Starbucks' loyalty rewards program
)
Before it's here, it's on the Bloomberg Terminal.
LEARN MORE