In Turkey, Taxi Licenses Outperform Stocks
Prices have tripled over the past nine years in an active market
by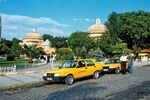 Near the polished Fiats and Fords parked at the Otocenter, a cluster of shops in a remote working-class district of Istanbul, traders tout an investment vehicle that has tripled in value over the past nine years: license plates for taxis. Prices have risen about 10 percent, to 1.05 million liras ($580,000), over the past 12 months.
The buying and selling of taxi license plates takes place in small stores that together serve as an informal exchange. The trading business has its own jargon and a website (taksiplakasi.com) that provides price data. At the Otocenter, in the Bagcilar neighborhood below the Mahmutbey thoroughfare, which links Europe to Asia, a quarter interest in a license plate, called "a wheel," could be had for 263,750 liras this month. A quarter of a wheel, or a "nut," goes for about 65,375 liras. The market has become so active that "one can sell in half an hour and get the cash in less than a week, not much different from the Istanbul Stock Exchange," says Gursoy Atli, sales manager at Kale Ticaret, one of a handful of closely held companies that trade licenses. Kale trades at least 20 license plates a day, Atli says.
While Istanbul's population reached 13.8 million last year, up from 9.2 million in 1997, the number of taxi licenses has been stagnant at 17,353, according to an official at the Istanbul Metropolitan Municipality who asked not to be identified, citing government policy. That translates to 1 cab per 800 people, compared with a ratio of 1:662 in New York and 1:362 in London, based on data from the city governments. Other big cities also have restricted taxi markets, yet "none has Istanbul's pace of population growth and frozen number of licenses," says Eser Karakaş, an economist at Bahçeşehir University in Istanbul.
Although owners collect about 4,600 liras a month paid by drivers to rent the plates, drivers are not benefiting from the rising price of licenses. "There's a general assumption that the license plate owner is the person who drives the car," says Asim Golcek, deputy chairman of the Alternative Transporters Solidarity Association, which represents a growing fleet of unmarked, unlicensed cabs. "Nothing could be further from the truth." Taxi drivers, who work as long as 12 hours a day, on average must pay about 120 liras a shift to license plate holders, Golcek says, adding that the figure was expected to rise after the Feb. 23 fare increase of 8 percent. "The driver can keep the rest to feed his family—if there's any left," he says. "Sometimes drivers end up paying money from their own pockets after working for 12 hours."
Before it's here, it's on the Bloomberg Terminal.
LEARN MORE