In India, Google's Eric Schmidt Explains Why He Went to North Korea
by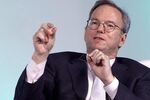 Eric Schmidt took his road show to another Asian destination today. The Google executive chairman, who went to North Korea in January and is scheduled to travel to Myanmar soon, is now in India, where he was the featured speaker at a company-sponsored talkfest at a luxury hotel in New Delhi.
A day after South Korea suffered a severe cyberattack that investigators believe may have links to the erratic regime that played host to Schmidt on his North Korean trip, not surprisingly the first question from the audience in the ballroom of the Taj Palace Hotel was about the Pyongyang visit. What had made Schmidt decide on going to North Korea?
After first making a joke about playing basketball—a reference to the strange visit by Dennis Rodman a few weeks after Schmidt's trip—the Google executive explained he went to Pyongyang on a mission to spread the good news about the power of the Internet. North Korea "is the last really closed country in the world," he said. "This is a country that has suffered from lack of information. The Internet was built for everyone, including North Koreans. The quickest way to get economic growth in North Korea is to open up the Internet. I did my best to tell them this."
Who knows if the North Koreans were in a mood to listen to lectures from the American? Especially since it appear that Kim's techies have other cyber priorities: There's no proof yet, but many people in South Korea and elsewhere believe yesterday's attacks against broadcasters and banks, which crippled 32,000 servers in the South, have North Korean fingerprints. "North Korea is really the only suspect here," John Park, research fellow at the Belfer Center for Science and International Affairs at Harvard's John F. Kennedy School of Government, told Bloomberg TV. The regime "has invested a lot in terms of scarce resources into these types of capabilities."
One tell: The attackers used malware code from China. "Discovering that the code was from China makes it more likely that the attack was from North Korea, because a lot of North Korean hackers operate there," Ryou Jae Cheol, a professor of computer engineering and securities at Chungnam National University, told Bloomberg News. "Who else would be making this kind of attack at this scale and timing other than North Korea?"
Before it's here, it's on the Bloomberg Terminal.
LEARN MORE