European Soccer's Master of Match-Fixing
How a gifted gambler built a European match-fixing empire
By and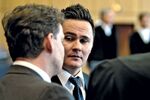 A few minutes' walk from Berlin's famed Kurfürstendamm, with its designer stores and stately plane trees, is an unremarkable, louche-looking drinking establishment called Café King. The bar stools and booths are black leather; the lighting is bordello red. On the walls are framed photos of assorted world landmarks: the Brandenburg Gate, the Eiffel Tower, the Kremlin. Football matches play on the numerous televisions.
Berlin is an indifferent sporting city. In a soccer-mad country, its teams are league doormats that Berliners mostly ignore. Yet in the local sports scene, such as it is, Café King was once a hub. Players from soccer team Hertha BSC hung out there, as did basketball players from Alba Berlin and members of ice hockey team Eisbären Berlin (the Berlin Polar Bears). The cafe's owner, Milan Sapina, knew the athletes and made them feel welcome. The place could get rowdy after games.
On an evening in early March, however, the cafe was calm, and Milan, 47, sat glumly in a booth, drinking tea. He was just back from the industrial city of Bochum, in Western Germany, where he'd appeared in court for his role as an accomplice to his younger brother, Ante.
Ante Sapina is one of the most notorious sports bettors in Europe. In 2005 he was sentenced to nearly three years in prison for match-fixing, and two years ago he was convicted a second time for the same crime. He has confessed to rigging soccer matches all over the Continent, paying off players and referees to throw games and then making millions of dollars betting on the outcomes. Prosecutors at his latest trial detailed how Sapina and those working with him spent at least $2.7 million in bribes to players, referees, and league officials. They gave evidence in Sapina's trial of 43 fixed matches and say the total number the group rigged is more than 300. The ring sometimes scheduled professional games themselves—paying for the visiting team's travel and accommodations—just so they could manipulate the outcome. They went so far as to buy their own team so they could order it to lose. The case has been called the biggest sports-fixing bust in European history.
Milan Sapina's legal troubles didn't stop him from offering a seat to a reporter and politely answering questions in Croatian-accented German. (Because he is appealing his conviction, Ante Sapina declined through his lawyer to be interviewed for this article.) Milan's own role in the operation, he says, was primarily as a host, facilitating meetings, often at his bar, between gamblers and players or referees. Some of the players liked betting on their own teams, he says, and they traded tips—who was injured, who had been out drinking the night before the match. "Betting works like the stock market," Milan says. "The key is knowing more than the bookmaker. And sometimes," he shrugs, "bets go a bit beyond what's allowed."
Over the past few years, international soccer has suffered a series of match-fixing scandals. In a press conference last month, Europol, the European police intelligence agency based in the Hague, announced that it had found 680 suspicious matches worldwide from 2008 to 2011, including games in some of Europe's most prestigious leagues. In Italy, players from 22 teams were accused of fixing matches, and many have been suspended. The president of the South African Football Association was suspended last December for allegedly rigging international matches; the Finnish soccer league suspended a former champion club for match-fixing; and a top Hungarian team, Debrecen, has been investigated by European soccer's governing body for throwing a game in the UEFA Champions League. In Italy, a goalkeeper on third-division club US Cremonese allegedly put sedatives in his own team's water bottles to ensure they lost; one of his teammates crashed his car on the way home from the game.
According to investigators at Europol and Interpol, most of this corruption is being driven by Asian criminal syndicates: Gangs based in places such as Singapore see match-fixing as a low-risk alternative to revenue streams like drugs and prostitution, and prosper by betting millions on one rigged game. The Sapina case, however, is a European operation, and it shows a different side of the epidemic. It turns out you don't need to be a gang kingpin to make it big in the match-fixing business. All you need is a head for numbers, an Internet connection, and an eye for human frailty.
Ante Sapina was born to Croatian immigrant parents in 1976 in the German city of Duisburg, near the Dutch border. According to court documents, he became a committed and industrious gambler in his early teens, placing wagers under the names of his older brothers, Milan and Filip, because he was underage. Sapina also played soccer well enough to make it onto a local semipro team called SD Croatia Berlin. By the time he was in college, studying economics at Technische Universität Berlin, he was gambling online nearly every day. In 2000 he won 100,000 deutsche marks (around $50,000 at the time), on a single "breakthrough" wager. Two years later he dropped out of school to gamble full time.
Sapina did well—too well, in fact. Within a couple of years, bookies and gambling websites set special caps on his bets and stopped letting him bet on minor sports, such as ski jumping and handball, where his obsessive fact-finding gave him an edge. Soon, Sapina was almost entirely limited to betting with Oddset, a game run by the German state lotteries that required users to bet on multiple football matches and only paid out if they got all of them right. By the beginning of 2004, Sapina owed Oddset more than €300,000 and was getting desperate. Although a back injury had ended his soccer career, he would tell a Berlin court, he was still in touch with many players. He decided to monetize those connections.
Gamblers looking to fix matches rarely approach players themselves. Instead, they employ go-betweens called "runners," often former members of the target team. Sapina's first runner was an acquaintance named Torsten Bittermann, according to court documents and Der Spiegel. Sapina testified that he offered him €3,000 to find three players on the German team Chemnitzer FC to play "with the brakes on," as Sapina put it, in an April 10, 2004, game. Bittermann found one. For €10,000, a midfielder near retirement named Steffen Karl promised a loss, and Chemnitzer succumbed to Dynamo Dresden 1-0. To win his Oddset bet, however, Sapina needed a second game, between Turkey's Galatasaray and Ankaragücü, to go his way. Milan went to Ankara with €15,000 in bribe money, but the fix fell through when one of the cooperating players was left out of the lineup and the other balked at trying to single-handedly lose the game. Sapina was denied a potential €636,510 payout.
After that inauspicious start, Sapina's rigged results improved. A few weeks later, Karl and a Chemnitzer teammate helped deliver a 3-0 loss, and Sapina won €303,240. Around that time, Sapina acquired a valuable new accomplice, too; a 24-year-old referee named Robert Hoyzer had begun hanging out at Café King. Tall, blond, and unfailingly tan, Hoyzer had a hedonistic streak and was impressed by the Sapina brothers' cars and money. When Sapina found out what Hoyzer did for a living and brought up the possibility of working together, the referee readily agreed. "You don't have to tell a frog to jump into the water," Sapina later told a judge.
Referees exert enormous influence over soccer matches, where margins are rarely more than a goal. In a now notorious match that August, Sapina engineered an upset in a German Cup game between Paderborn, a team in Germany's lowly third division, and top-division Hamburger SV. Sapina paid Paderborn's captain, a Dutch player named Thijs Waterink, €10,000 to get his players to pretend to be fouled as often as possible in Hamburg's penalty area. Flopping is a common practice, but particularly egregious examples can be punished by referees. With Hoyzer in charge of the whistle there was no risk of that for Paderborn. He erased a two-goal Hamburg lead by twice awarding dubious penalty kicks to Paderborn and, for good measure, he ejected Hamburg's star striker from the game. Paderborn won 4-2. Sapina made more than €750,000 on the game, and paid Hoyzer €20,000.
Hoyzer had overdone it, however. According to the German newspaper Die Welt, Hoyzer's ridiculously bad calls, coupled with his weakness for clothes (he'd spent thousands of euros on a new wardrobe), had raised the suspicions of his fellow referees. Moreover, he had showed a referee named Felix Zwayer an envelope with €3,000 in it, and tried to recruit him to help manipulate matches. Zwayer reported him to the German referee commission. In short order, Hoyzer admitted to fixing matches and implicated Sapina. On Jan. 28, 2005, soon after the normally thrifty Sapina had splurged on a new Porsche, he was arrested and charged with fraud.
The resulting trial was a national scandal and deeply embarrassing for a country about to host the 2006 World Cup. Hoyzer and Sapina confessed to the charges against them. In November 2005, Hoyzer was sentenced to two years and five months in prison, Sapina to two years and eleven months. Milan, Filip, and a second referee named Dominik Marks were given suspended sentences, as was midfielder Karl, who initially denied taking bribes, but later confessed. Waterink and Bittermann escaped criminal prosecution. In a statement under oath, Bittermann denied rigging matches. Waterink acknowledged taking a €10,000 bonus and was suspended by his team.

The scandal ended Hoyzer's career; he is banned for life from officiating, though two years ago he successfully petitioned the German Football Association to allow him to join an amateur team as a player. For Sapina, the sentence would barely prove a sabbatical. A psychiatric evaluation submitted to the court characterized him as a gambling addict and recommended cognitive behavioral therapy. Instead, he would soon be released into a world where it was easier and more lucrative than ever to indulge his addiction.
During the 2006 World Cup, Sapina was out on appeal. In a crowd watching the Croatia-Brazil game, he met another compulsive gambler. Marijo Cvrtak, a fellow Croatian, had tried his hand at being a cook, a baker, a truck driver, a forklift operator, and, repeatedly, a thief—he had several robbery and assault convictions. He was a few months older than Sapina but, as he would testify in Bochum, had long admired the younger man's exploits. When Cvrtak approached his idol, "He listened to me, and we got along well."
Sapina lost his appeal but spent just a few months behind bars, finishing out his sentence spending only nights in detention. It's likely that even as he slept in a cell, he was passing his days plotting with Cvrtak. The two made a formidable, if unsvelte, duo. Cvrtak was chubby, and Sapina called him knoedel, or "dumpling." Sapina has the features of a young, cleanshaven garden gnome, and his own nickname on the gambling scene was the Berliner—which, in a gift to German headline writers, is also a term for a jelly doughnut. As they admitted at their May 2011 trial, the dumpling and the Berliner fixed matches in Germany, Croatia, Austria, Hungary, Belgium, Switzerland, Turkey, Slovenia, and even Canada.
Most were lower-level contests, but not all. Prosecutors charge that the ring fixed an October 2009 match in the elite Champions League—where the best professional teams from across Europe play each other—between Italy's Fiorentina and Hungary's Debrecen. The month before, Sapina rigged a World Cup qualifying match between Liechtenstein and Finland by bribing the game's Bosnian referee, Novo Panic. In a Sarajevo parking lot, Sapina testified, he met Panic and told him to ensure that two goals were scored in the second half. Sapina, like other match-fixers, would bet not just on the outcome of a game but on outcomes within it—how many goals are scored, who scores first, how many free kicks are awarded, when the first throw-in or corner kick would occur. Bets like these pay better than just wagering on who will win because the odds are longer. Panic earned his €40,000, awarding a penalty kick to the Finns after Liechtenstein scored in the second half. (In February 2010, Panic was banned for life from refereeing by UEFA, which runs European soccer. He appealed the ban, but it was upheld.)
Sapina and Cvrtak didn't stop at mere bribes. In January 2009, Cvrtak bought Union Royale Namur, a struggling team in Belgium's second division, for a down payment of €75,000 and a promise to the team's indebted owners that he would invest a total of €700,000 (he never did). Cvrtak then put several comically poor players on the team—one an overweight striker the team's fans reportedly dubbed "the bomber"—bribing some in case they were tempted to improve. In the summer of 2009, Cvrtak paid for the Bosnian club NK Travnik to travel to Switzerland, where the team played, and lost, a series of matches. Sapina turned a tidy profit on both scams. Prosecutors say the gambling ring won €8 million from February to November 2009.
Sapina's aptitude for match-fixing was improving, but he was also benefiting from changes in the gambling landscape. As a precocious teen bettor, he'd mailed off his wagers days in advance; now he could place a bet on his smartphone 20 minutes into a match. Live betting gives match-fixers cover. It is possible for bookmakers or betting watchdogs to spot fixes by watching out for unexpected betting patterns—tipped-off bookies can stop taking bets on a game, or even withhold payment. If the fix is spotted early enough, league officials can be warned. But if fixers like Sapina can wait until after the game starts to place their bets, that makes them much harder to spot, and leaves only hours—or minutes—to respond.
With the Web, gambling had also gone global. The Berliner no longer had to rely on Oddset or local bookies. To get around betting limits on Web exchanges, he phoned his larger wagers in with a London-based broker called Samvo. As detailed in the Bochum court decision, Samvo then placed bets for Sapina on Asian betting exchanges.
Asian exchanges, both regulated and unregulated, have proliferated in recent years. They don't have bet limits, and they are big enough to easily afford taking bets from winners like Sapina. Unlike European online betting exchanges such as Betfair, they don't have agreements to report suspicious betting activity to sport governing bodies. (Samvo's London offices were raided in connection with Sapina's arrest. Reached by phone, a spokesman for the company declined to comment.) Friedhelm Althans, the chief investigator of the Bochum police department, led the Sapina investigation. "In Asia, there are no limits," he says. "A match-fixing organization definitely needs the Asian markets to generate millions."
In addition, the sheer volume of money moving through the Asian exchanges means that even on the obscure games Sapina preferred to rig there was plenty of action. That's partly because countries such as China, Singapore, and Malaysia have growing middle classes with broadband access and a long gambling tradition. It's also because bettors in those countries prefer betting on contests abroad—their own domestic leagues are so riddled by match-fixing, few people without inside information bother to bet on them.
The accumulation of evidence in the Sapina trials, as well as investigations in Italy, Finland, South Korea, Belgium, and elsewhere, have triggered a response. There have been criminal prosecutions and bans from the sport for fixers, players, referees, and team officials—some, like Hoyzer's, for life. And if technology has served to increase the range and the returns of sports corruption entrepreneurs like Sapina, it also offers a few tools for catching them.
In 2005 the first Sapina trial inspired Swiss sports data company Sportradar to develop software to spot match-fixing. The resulting program tracks betting odds at hundreds of bookmakers around the world in real time, looking for shifts that suggest gamblers are, in effect, acting on inside information. UEFA and FIFA, the international governing body of soccer, have both contracted with the company. Sportradar's data allow the company to track players behaving suspiciously—those who show up again and again on teams that throw games—and to warn teams and national sports federations to keep an eye on them. Andreas Krannich, the Sportradar managing director in charge of the project, says the technology actually enabled UEFA to spot a fix during a Champions League qualifying match—he won't say which. At halftime, he says, UEFA "sent an official into the locker room to inform them that [the fix] could not continue." Someone in the locker room, Krannich suggests, then contacted the fixers and called things off, because the odds immediately reverted to normal. In other words, someone somewhere had bought an outcome in one of the most-watched competitions in the world's most popular sport. And even after it was spotted, the only trace they left was the shudder of a market righting itself as their massive bet was unwound.
Match-fixers have a long tradition of covering their tracks to avoid the scrutiny of regulators and, just as important, that of competitors. According to Declan Hill, whose book The Fix is an in-depth look at the intersection between soccer and organized crime, strategies range from working through agents to disguise the true source of a wager to misinformation campaigns that dupe gamblers into taking the other side of a bet. "When I was around the fixers," Hill says, "they spent as much if not more of their time discussing how to fix the gambling market as how to fix the games." Indeed, even though Sapina was a convicted match-fixer, Bochum police only stumbled upon his new venture by accident. (Lead investigator Althans won't give details, except to say that wiretaps in an unrelated investigation into "red light proceedings" picked up discussions of match-fixing.)
Sapina and Cvrtak were arrested on Nov. 19, 2009. The two confessed to the charges against them and cooperated with prosecutors. In May 2011 they were each sentenced to five and a half years in prison. Both appealed. Last December an appeals court overturned their sentences, though in such a way that it remains unclear whether they will ultimately be lengthened or shortened. Prosecutors continue to investigate about 300 other people they say were involved in one way or another in the ring.
On March 18, Milan Sapina was sentenced to 10 months in prison. Reached by phone at Café King the next evening, he says the verdict left him "disappointed and annoyed." The prosecutors had been out to get him: "I exchanged money once, and they found two betting receipts, and suddenly I'm the gambling mafia." The receipts weren't even his, he insists. Techno music thumps in the background, and the bar sounds busy. These days players and referees steer clear of the place, but Sapina says there are plenty of customers. Thanks to its notoriety, Café King has become a tourist attraction.