E-Mail Snafu Reveals Grades for 500 Business Students
Louis Lavelle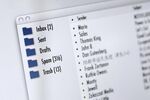 Next to salaries, college grades are some of our most closely guarded secrets. But for students at Saint Joseph's University's Haub School of Business, all that changed on March 6, when an e-mail containing student grades was inadvertently sent to nearly 500 undergrads.
University Provost Brice Wachterhauser on Tuesday apologized to students and faculty for the incident, which he described as an "internal human error."
"Safeguarding the privacy of protected student information is a responsibility Saint Joseph's and the Haub School take seriously," Wachterhauser wrote in his apology, which was first reported by Philly.com. "We regret this error and offer our apologies to all students affected both directly and indirectly by the e-mail message."
The information on the individual grade-point averages of about 500 students was contained in a spreadsheet attached to an e-mail solicitiation for an internship in Italy. The e-mail was sent from the office of Haub Dean Joseph DiAngelo Jr., although the name of the person who sent it was not disclosed, and went to to nearly 500 undergraduate students at Philadelphia-based Haub, according to Carolyn Steigleman, a Haub spokeswoman. She says that the incident is being reviewed by the university's legal team and that the school is reviewing data collection procedures to prevent a similar mistake from happening again.
Haub is the largest Jesuit business school in the U.S., with more than 3,600 students.
The Family Educational Rights and Privacy Act prohibits the disclosure of confidential student educational records without the written consent of parents or students. Complaints alleging Ferpa violations can be filed with the U.S. Department of Education. Institutions that have a "policy or practice" of releasing protected student records may lose federal funding.
Join the discussion on the Bloomberg Businessweek Business School Forum, visit us on Facebook, and follow @BWbschools on Twitter.
Before it's here, it's on the Bloomberg Terminal.
LEARN MORE