Chat Transcript: Best Undergraduate Business Schools 2013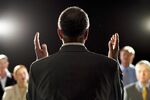 Editor's Note: Profiles of many of the schools mentioned in this transcript can be found on our Rankings & Profiles page.
Notre Dame's Mendoza College of Business took the top spot among Bloomberg Businessweek's ranking of Best Undergraduate Business Schools for the fourth consecutive year in 2013. Bloomberg Businessweek editors Louis Lavelle and Geoff Gloeckler revealed the top 50 programs and answered questions from the public about Mendoza's strength, ranking methodology, and the surprises on the list at a recent live chat event. Here are excerpts of their discussion:
Subimal: What is the public/private makeup in the top 50? Are the public universities making inroads?
LouisBW: We have 22 publics in the top 50 this year, a pretty good showing.
topten2: How many schools are included in this year's rankings?
GeoffBW: 145 schools participated in the ranking, and 124 ended up ranked.
Emory_Freshman: Why did Olin rise?
GeoffBW: Wash U jumped four spots to fourth overall, thanks to a strong showing in student satisfaction (6th overall). Olin boasts the highest average SAT scores of any school in the ranking (1492), and it received top marks for both teaching and academic services.
Sully: Is a three-year moving average still being used for employer responses?
LouisBW: Yes, for both employer and student responses: 50 percent for the most recent survey, 25 percent for each of the two earlier surveys.
YO: What school jumped the most? Why?
GeoffBW: Ohio State jumped 34 spots to 34th overall. This was due mostly to a strong showing in the employer ranking (and the fact that a low score from 2010 was no longer part of the calculation).
Career_Center: What was the response rate from the recruiters this year?
GeoffBW: The employer response rate was 42 percent. I think that's about the best we've ever had.
PRfrog: Where is the methodology?
LouisBW: You can find it here.
JLWeaver: Why are some schools ranked and others not ranked?
GeoffBW: To be ranked, schools must meet response rate minimums in both the student and employer surveys. Of the 145 programs eligible for ranking, a total of 21 were eliminated. Twelve were eliminated due to low response rates on the student survey: Auburn, Ball State, Creighton, Florida State, Georgia State, Oklahoma State, Rensselaer Polytechnic, SUNY-Geneseo, Texas Tech, Illinois-Chicago, Louisville, and Maryland. Two schools were cut for low response rates on the employer survey: Chapman and Evansville. An additional seven schools were eliminated because of low response rates on both surveys: Clarkson, East Tennessee, Iona, Rollins, Salisbury, Massachusetts-Boston, and University of the Pacific.
Roger: Has the methodology changed from last year or remained the same?
LouisBW: The methodology is the same as last year. There have been very few changes since the ranking was launched in 2006.
Duck1: How do we get the rankings for the rest?
LouisBW: The complete ranking is found here.
Emory_Freshman: Which element caused Emory to drop in the ranking?
GeoffBW: It was mostly a case of Wash U having a very strong year, passing four schools and moving up to No. 4. Emory is ranked 8th in student satisfaction and 16th in employer satisfaction, strong in both.
JM: What is the weighting for prior years? How does that factor into the ranking?
LouisBW: The student survey score counts for 30 percent of the final ranking, with the recruiter survey score contributing 20 percent. Starting salaries and the MBA feeder school measure contribute 10 percent each. The academic quality measure supplies the remaining 30 percent.
rico: What were the top five schools in the student ratings?
GeoffBW: Top five in the student rank, based on three years: 1. Notre Dame (Mendoza); 2. Cornell (Dyson); 3. Virginia (McIntire); 4. Richmond (Robins); and 5. Texas Christian (Neeley).
SP: Who was ranked first in academics this year?
GeoffBW: Wake Forest
JDE: Do you have a date for the release of specialties?
LouisBW: Not a date, but you can expect to see them within the next month.
Pat: What happened to MIT?
GeoffBW: The reason for the drop is mostly due to the employer survey, where Sloan ranks No. 80 overall. It's a very small school, and it gets hurt on the recruiter end because of that. The ranking story will address it in more detail.
Career_Center: What were top five for recruiter rankings?
GeoffBW: The top five schools for the employer rank, based on three years of data, are: 1. Indiana (Kelley); 2. Penn State – University Park (Smeal); 3. Brigham Young (Marriott); 4. Texas – Austin (McCombs); and 5. Notre Dame (Mendoza).
rico: What are the top five for academic quality?
LouisBW: Geoff already mention No. 1, Wake Forest. The next four are all tied for second place: Wharton, UC-Berkeley (Haas), Villanova, and Richmond (Robins).
topten2: What was the required response rate from students to be included in the survey?
GeoffBW: The overall student response rate was 32 percent.
tuesday: Does BW plan on making ranking criteria any more transparent to universities?
LouisBW: Our methodology is published on the website, and we have an FAQ as well. If there's a specific aspect of the methodology that's unclear, please let us know. We'd be happy to explain.
abc123_2: Seems like many schools dropped. What is the main reason for the drop of a few spots?
GeoffBW: A little movement can be expected, based on the number of schools in the ranking and the fact that new programs enter every year. In terms of big jumps, though, the employer survey provides the most fluctuation.
LVG: How many schools are new to the list?
LouisBW: We had seven new schools participate this year, but not all of them got ranked.
JJH: It seems like recruiter survey results were wacky this year, with MIT falling, Ohio State leaping to No. 34, and Case Western falling from the top 50.
GeoffBW: Not sure if the results were "wacky." I might argue that they are more reliable this year, simply because the response rate was higher. Also, many schools were hurt because the 2010 score is no longer used in the calculation. This is the case for both Weatherhead and Sloan.
katiedown: Was Harvard ranked last year?
GeoffBW: Harvard does not offer undergraduate business.
rico: If Richmond is top five in those two categories, what caused the drop to No. 17?
LouisBW: Richmond was No. 4 in the student survey and No. 2 in academic quality, but No. 106 in the employer survey.
dmalee: For Fordham University, was the jump related to the new business school facility that opened this year?
GeoffBW: Indirectly, perhaps. Students are probably happier with a new, state-of-the-art facility.
LJS: How are paid vs. unpaid internships treated in the ranking measurement?
GeoffBW: We don't treat them any differently.
AMGf1: What were the top 10 schools from which investment banks recruited?
LouisBW: That's a great question, but it's going to require a little research to figure it out.
Osman: Any Canadian schools make the cut?
GeoffBW: The ranking is currently open only to U.S. schools.
Career_Center: Why do you think some employers choose not to fill out the survey (such as the Big 4 accounting firms)? What impact do you think this has on schools where they recruit heavily?
GeoffBW: I think they are concerned that their recruiting habits might somehow become public. I'm not sure what the impact would be. I would be interested to know.
twalor: Where did MIT rank on the student survey?
GeoffBW: No. 21.
Hm: What are the top five for placement?
LouisBW: I don't have the top five, but Penn State and Ohio State both reported 100 percent placement by three months after graduation. Many of the top 50 reported placement of 90 percent or more.
La_Trice_Small: Your latest MBA ranking employed a new methodology regarding the number of times a school was mentioned. I do not recall specifics, but did you adopt the change for this undergraduate ranking?
GeoffBW: That change actually came from the undergraduate methodology. It was implemented last year.
AMGf1: In the previous years, some schools did not have any comments in their graduate comment section. Why?
GeoffBW: Most likely because they did not participate in the ranking. You will notice that the profiles are new this year. All ranked schools will eventually have student comments. At the moment, only the top 50 schools do.
PeterS: Did Loyola Marymount University make it into the rankings this year?
LouisBW: Yes. The school ranked No. 65, up from No. 93 last year. It did very well on academic quality, with a No. 35 ranking in that metric.
Teresa: Which are the top five schools for starting salary?
LouisBW: Wharton, MIT, and Carnegie Mellon all reported median starting salaries of $70,000. Michigan (Ross) came in at $65,000, and NYU (Stern) at $63,250.
JM: Any comments on Fordham?
GeoffBW: Strong in academic quality, middle of the pack in student satisfaction and the employer rank.
K8: Where are the letter grades?
GeoffBW: The letter grades are in the main ranking table. Click on the "stats" tab to see the letter grades.
John: Where was Syracuse University ranked?
LouisBW: No. 72, down from No. 61 last year.
JLWeaver: Where is the recruiter rank listed on the complete listing?
GeoffBW: The "Employer Survey Rank" column.
Crash: What is meant by: "A new methodology regarding the number of times a school was mentioned"?
GeoffBW: It was not new this year. It was new last year. It is explained in the rankings FAQ, but basically, it penalizes schools that have a below-average number of employer responses.
DeanJR: What contributed to BYU's rise in the rankings?
GeoffBW: BYU is one of the few schools that does very well in both the "main" rankings measures: the student and employer surveys. Marriott ranks 12th in student satisfaction and 3rd in employer satisfaction.
working: What kept the University of Illinois at Urbana-Champaign out of the top 20?
GeoffBW: The challenge for Illinois is the student survey (59th overall).
Duck1: What happened to the University of Maryland?
GeoffBW: I'm glad you asked. Two schools, Maryland and RPI, were eliminated due to low student response rates.
Career_Center: How many of the top 20 have full-time, ranked MBA programs?
GeoffBW: Thirteen, I believe (not including Cornell and Virginia, where the UG business program is located in a separate school).
pjn: Where was Bryant ranked?
LouisBW: No. 63, up from No. 70 last year.
Subimal: How did Binghamton rank?
LouisBW: No. 57, up from No. 59 last year.
kmk: Any comments on Villanova?
GeoffBW: Villanova is strong in academic quality and student satisfaction. Not as strong in employer ranking (31 overall).
GTundergrad: What caused Georgia Tech to fall?
GeoffBW: A combination of academic quality, starting salaries, and employer rank.
Teresa: Is space outside the B-school building considered in the facilities grade?
GeoffBW: No. We ask about those kinds of things (food, parking, dorms, etc.), but those questions are not included in the ranking calculation.
Supermom1: Where are the graduate comments that AMGf1 mentioned?
GeoffBW: /strong> They are in each school's profile (at least for the top 50, at the moment), which can be found here. Others will be live in a week or so.
Duck1: Who were the bottom five on recruiter and student satisfaction?
LouisBW: On the student survey, it was Vermont, UC Riverside, Kentucky, Bradley, and Louisiana State. On the recruiter survey it was South Florida, Toledo, St. Thomas, Utah, and Bradley.
Join the discussion on the Bloomberg Businessweek Business School Forum, visit us on Facebook, and follow @BWbschools on Twitter.
Before it's here, it's on the Bloomberg Terminal.
LEARN MORE