Biosimilars Lure Major Drugmakers Into the Generics Biz
About $47 billion of drugs from human cells will soon go off patent. Copying them won't be easy
By and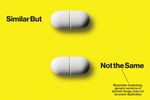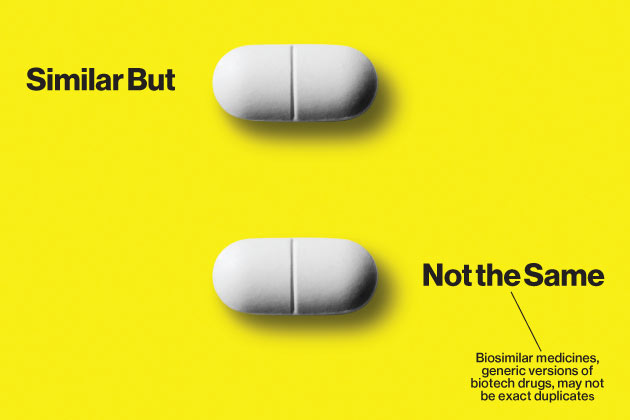 Call it the Revenge of Big Pharma. Generic drug companies such as Teva Pharmaceutical Industries have made billions since the late 1980s by reverse engineering best-selling drugs that came off patent—escaping hefty development and marketing costs—and selling them cheaply. When it comes to copying the best-selling treatments that are coming off patent today—a category known as biologics, medicines produced using the body's own cells rather than through chemical reactions in a lab—the companies with the expertise to develop and market them are pharmaceutical giants. That leaves companies like Israel-based Teva, the largest maker of generics, increasingly on the sidelines.
The biologics losing patent protection over the next six years had total annual sales of $47 billion in 2012, according to Bloomberg Industries. However, the rules of the lucrative knockoff drug game are being altered. The derivatives of biologics, known as biosimilars, are far more complex to make than chemical generics. Drug companies that want to sell copies of biologic medicines such as Roche Holding's $7 billion-a-year rheumatoid arthritis treatment Rituxan require expertise and money to produce and market to the public and physicians. "There's this dawning realization that biosimilars are in many ways the same as branded products," says Duncan Emerton, Datamonitor Consulting's biosimilars practice leader.
This higher threshold is luring some unlikely players into the generics game: Big Pharma. Boehringer Ingelheim, the maker of lung medicine Spiriva, may be the first to market a Rituxan biosimilar for rheumatoid arthritis, according to Bloomberg Industries. Pfizer, the world's No. 1 drugmaker, is exploring plans for late-stage trials on a biosimilar of Roche's pricey Herceptin breast cancer drug (which can cost up to $59,000 a year) and will complete mid-stage trials for a copy of Rituxan this year, Mikael Dolsten, Pfizer's head of worldwide research and development, said in January. And Novartis, Europe's biggest pharmaceutical company, is in late-stage testing of its own Rituxan biosimilar for non-Hodgkin's lymphoma and in mid-stage trials for the same drug for arthritis. "It makes sense for [Big Pharma] to get involved," says Emerton, "because they have the necessary infrastructure and knowledge to not only effectively develop these products but also to commercialize them."
To win approval, companies must show pharmaceutical regulators that their product is sufficiently like the original drug. That can remove a big cost of traditional drug discovery because the copycat producers don't need to do clinical trials with thousands of patients to prove the drug's effectiveness, says Emerton. But to convince skeptical doctors of the reliability of these life-and-death drugs, manufacturers may need to do more studies, says Mateja Urlep, former global marketing head for Novartis's Sandoz Biopharmaceuticals unit and chief executive officer of biosimilars consulting company TikhePharma. "The mandatory minimum for regulatory approval," Urlep says, "may not be enough for commercial success."
All those bills for testing and then pitching doctors and patients on the effectiveness of a particular knockoff—a new challenge for generic manufacturers—add up. Developing a biosimilar may cost $100 million to $200 million, according to Hospira, a U.S. manufacturer of injectable medicines that with partner Celltrion is awaiting European regulators' approval of a biosimilar version of Johnson & Johnson's Remicade for rheumatoid arthritis. That's a fraction of the $1 billion typically spent to develop a new branded drug, according to Datamonitor, but far more than the $50 million for cranking out a regular generic.
The challenge for makers of biosimilars lies in the compounds' very name: They are similar to but not the same as the drugs they aim to replace. Generic drugs are chemical duplicates of existing medicines. Making exact copies of biologics is practically impossible as even batches made by the same manufacturer will have slight variability. As in winemaking, a host of factors can affect the product, such as where it was made and the temperature at the time of production.
Regulatory approval of biosimilars requires manufacturers to show there is a low likelihood of clinically significant differences from the original drug. That requires makers of the replicants to demonstrate through lab work and human testing that the interactions between the drug and the body are comparable to the branded drug in head-to-head trials. But that still leaves room for doctors and patients to question whether the copy is as effective as the original over time.
Biologics manufacturers are exploiting those doubts. AbbVie, spun off on Jan. 1 from Abbott Laboratories, asked the U.S. Food and Drug Administration in April 2012 to reject any biosimilar of its rheumatoid arthritis drug Humira because approving a copy would require the FDA to disclose Humira-related trade secrets. The drug had $9.27 billion in sales last year, making it the world's best-selling medicine.
Two groups that likely would benefit from more companies manufacturing biosimilars are insurers and national health services looking for more affordable drug options for their patients. That's because biosimilars are likely to be priced at a discount to the drugs they replicate. In Western Europe, for example, a biosimilar called Zarzio made by Novartis costs about 26 percent less than Amgen's Neupogen, which helps cancer patients grow white blood cells. Currently, only 5 percent of arthritis patients receive biologics as first-line treatments because of their high cost, and then only after seven years on average of trying other drugs, Urlep says. "Clearly, that is an area where biosimilars can dramatically improve access" to the latest advances in care, she says.
So far, uncertainty over just how close biosimilar drugs are to the branded versions they replace has hurt their adoption in parts of Europe, where the first such product was approved in 2006. Prescribing of biosimilars has been particularly low in Denmark, where it was never above 10 percent for copies of filgrastim, designed to boost white blood cell counts, or more than 1 percent for the anemia treatment erythropoietin, from 2008 to 2010, according to an analysis by the European Medicines Agency.
While as many as six programs for a Rituxan biosimilar are under way, several manufacturers have encountered setbacks, including Samsung Group and partner Quintiles Transnational as well as Novartis. Teva and its biosimilars partner Lonza Group received FDA approval last year for tbo-filgrastim, a competitor to Amgen's Neupogen. But Teva in October said it halted studies for a biosimilar of Rituxan due to regulatory and competitive challenges. The program is still under review, the company said in December. In an e-mail, Teva spokeswoman Hadar Vismunski cited "significant uncertainty" in the regulatory environment to explain Teva's "cautious approach" on pursuing a Rituxan copy.
As a result of such delays, Roche Chief Executive Officer Severin Schwan has said he doesn't expect a biosimilar of Rituxan to reach the market in Europe until 2016, three years later than originally thought. Noted Schwan at a conference in London last month: "It's clear that this is not so easy."