Vivendi Back to Square One Weighing French Mobile Spinoff
Matthew Campbell and Andy Fixmer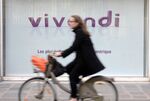 A year after Vivendi SA began considering a breakup under pressure from investors, Europe's largest media and telecommunications conglomerate is almost back to where it began.
The owner of Universal Music Group, video-game maker Activision Blizzard Inc. and Canal Plus is weighing a spinoff of its largest unit, French wireless carrier SFR, to focus on faster-growing media businesses, people familiar with its deliberations said. The SFR discussions follow failed attempts to get acceptable bids for Activision and Brazilian broadband company GVT, after Vivendi's board decided to sell assets instead of splitting the Paris-based company in two last year.
Chairman Jean-Rene Fourtou, who promised a "no taboo" strategic review before ousting former Chief Executive Officer Jean-Bernard Levy last June, is set to meet shareholders on April 30. As prospects dim for any imminent asset sales, investors may focus on intensifying competition in the French wireless market and profit at its lowest level in a decade.
"Nothing has actually happened in almost a year," said Conor O'Shea, an analyst at Kepler Capital Markets in Paris. "It's a good reminder for people that there's no lack of will to do things. But there are real constraints."
Biggest Division
Discussions on a separation of SFR, a business that made up almost 40 percent of Vivendi's 2012 revenue, have gained momentum since a February board meeting, said one of the people, who asked not to be identified discussing a private matter. Under consideration is a proposal for SFR to ultimately retain most of Vivendi's debt, which the company is seeking to reduce as it focuses on expanding in media, said the people.
A final decision hasn't been made and Vivendi may still settle on an alternative strategy, the people said.
A spokesman for Vivendi declined to comment on a potential split of the business.
Vivendi shares fell 1.8 percent to 15.93 euros in Paris. The company, which has a market value of 21.1 billion euros ($27.2 billion), reported net debt of 13.4 billion euros at the end of December.
Vivendi had considered a breakup, Bloomberg News reported in April 2012, as Fourtou sought to reverse a stock slide he attributed to the group's holding-company structure. He ousted Levy two months later and proceeded with a plan to sell assets instead.
'This Time'
"Investors have all been down this road before," said Paul Sweeney, a Bloomberg Industries analyst. "Vivendi has talked about this deal several times before without getting anything done. Hopefully, this time will be different."
Splitting off SFR would put an end to a media and telecommunications combination that's unique in Europe, as mobile-phone operators struggle to increase sales amid tough competition. The discussions on SFR intensified after Vivendi halted a sale of GVT because bids came in below an asking price of 8 billion euros.
SFR, France's second-largest mobile operator, may be valued at about 15 billion euros, according to Societe Generale estimates. Former CEO Levy spent 7.95 billion euros in 2011 to acquire 44 percent of SFR held by Vodafone Group Plc, implying an 18 billion euro valuation at the time. A few months later, discounter Iliad SA entered the French wireless market with packages that cost as little as 2 euros a month.
Vivendi had held unsuccessful discussions with cable operator Numericable about a merger with SFR last year, according to people familiar with the talks.
Maroc Suitors
A separation of the phone from media businesses would take three to five years to complete, and would probably happen after a sale of Vivendi's 53 percent stake in Maroc Telecom SA, the people said. Emirates Telecommunications Corp., the Middle Eastern carrier also known as Etisalat, is a leading contender to acquire the North African mobile operator, while Qatar Telecom QSC and South Korea's KT Corp. are also weighing a purchase, they said.
Vivendi needs to reduce debt before any split, one person said. The most likely way to achieve that is through the Maroc Telecom sale, the person said. Vivendi may choose a buyer for the holding, valued at about $6 billion on the market, within weeks, the people said.
Another potential source of cash is Vivendi's 61 percent stake in Santa Monica, California-based Activision. Based on current prices, Vivendi could sell $1.65 billion of the stock and still retain control. Vivendi unsuccessfully sought a buyer for the holding last year.
EMI Takeover
The deliberations mark another chapter in the improbable transformation of a former water utility into a global media group. Jean-Marie Messier, Levy's predecessor, embarked on a $77 billion acquisition spree in music, film and telecommunications before being pushed aside in a 2002 boardroom coup. The pay-TV provider Canal Plus is Vivendi's largest media unit.
Music has remained a theme for Vivendi, which completed a 1.2 billion-pound purchase of label EMI Group in September after agreeing to sell off some European assets to meet conditions set by regulators.
The conglomerate's phone operations had revenue of 15.7 billion euros last year, roughly half of Vivendi's sales of 29 billion euros, according to regulatory filings. The divisions contributed about 3.1 billion euros in operating income compared with 2.3 billion euros for the media operations.
GVT, which Vivendi acquired for $4.2 billion in 2009 after trumping a bid from Spain's Telefonica SA, has helped boost revenue growth at the French company as more middle-class Brazilians sign up for broadband packages. The unit received offers from DirecTV, the largest U.S. satellite-TV provider, and a group of private-equity firms including KKR & Co. and Apax Partners LLP, people familiar with the matter said last week.
Fourtou expects GVT, given time, may find a buyer at the asking price, or remain part of the company, the people said. Vivendi may ultimately seek a buyer for SFR as well, they said.
Before it's here, it's on the Bloomberg Terminal.
LEARN MORE