business
Renegotiate a Lease When a Big Competitor Moves In
By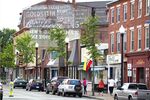 Question: My 1,800-square-foot business is in its ninth month of a three-year lease. Since a much bigger competitor, 14,000-square-feet, opened half a mile from us, our customer base dropped 30 percent. I'm not making enough for rent and need to renegotiate my lease amount and terms. How should I go about doing this?—V.A., Limerick, Pa.
Answer: Many small businesses found themselves locked into leases they could no longer afford when the economic downturn hit in 2008. "This situation started to come up daily over the past four or five years" in the commercial real estate sector, says Kirsten J. Day, senior counsel at Perkins Coie. "It's abated in some areas recently, but it's still not uncommon to see something like this happen."
This is a tough situation for a small business owner, particularly if you've put up a large security deposit or signed a personal guarantee. You do have some options, but keep in mind that a lease is a binding legal contract. If you default on the rent, your landlord can likely terminate the lease and seek damages against you in court, Day says. You will need to show some clear benefit to the landlord in order for her to grant you even temporary rent relief or let you out of the lease.
Arrange to talk to your landlord in person or at least over the telephone, rather than sending a letter or e-mail. If you have an institutional landlord, meet with your property management company and try to get it to advocate for you. "This is one of those dire situations where body language and establishing trust are really important," says Jim Thomas, a director at Minor & Brown in Denver. (He has blogged about getting out of a lease.)
Before meeting, prepare financial documents that demonstrate your inability to pay the current rent, decide what you want to do with your business (move, or stay and fight?), and research your landlord's situation and local market conditions. Talk to a commercial real estate agent about current rates and availability in your area, says Julie Vieillemaringe, a Los Angeles-based broker with ANR Asset Management Brokerage. "If there is little [available] on the market, and rates have risen, you may have good luck reducing the term or having the landlord take back the space."
If the market is softer and the landlord isn't sure she'll be able to get another tenant quickly, she'll be less likely to let you out of the deal. But she may be more motivated to give you rent relief, rather than having your business fail, particularly if you make the case that you're doing everything you can to turn your business around and you're willing to revise the rent upward if things improve after a few months.
Once you have good information, there are several options you can pursue, according to commercial real estate attorney John A. Logan of Laff Campbell Tucker & Gordon in Greenwood Village, Colo.:
• Negotiate a lease "buy-out" in which you would move out and pay a sum representing the landlord's costs and commissions, as well as several months of rent and expenses until the property is re-leased.
• Ask for smaller space or lower rent, and persuade your landlord that your business will remain viable, if you can get it. A landlord will be reluctant to give you a break if she suspects you'll go out of business in a few months, anyway. "There is little incentive for a landlord to take this route," Logan warns. "They have a contract with the tenant and unless there is a compelling reason for them to do so, they don't need to change the terms."
• Find a tenant to sublease part of the space your business now occupies and help you pay rent. Make sure your lease allows for subletting and consider hiring a commercial broker to locate a suitable—and financially sound—candidate.
• Find a substitute tenant to take over your lease—again, assuming that your lease permits this. You may still be ultimately responsible for the performance of the lease, but if you get a viable tenant, that would allow you to move further away from your large competitor.
Send more questions on challenges you face in your business. I will interview experts and distill their insights into answers.
Before it's here, it's on the Bloomberg Terminal.
LEARN MORE