Police Search IMF Chief Lagarde's Home in Adidas Sale Inquiry
By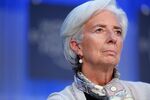 French police searched the Paris apartment of International Monetary Fund chief Christine Lagarde on Wednesday as part of an investigation into an arbitration payment to a controversial businessman that was approved by Lagarde.
The Paris prosecutor's office confirmed the raid, which involves a €385 million ($498 million) award to Bernard Tapie, a supporter of former President Nicolas Sarkozy, in whose cabinet Lagarde served as finance minister.
The payment was to settle a dispute over Tapie's 1993 sale of German sportswear brand Adidas, one of several businesses he has owned over the years. Tapie claimed that a formerly state-owned bank, Crédit Lyonnais, mishandled the sale. But the award, approved by an arbitration court and approved by Lagarde in 2007, caused an uproar because of Tapie's friendship with Sarkozy, as well as a checkered past that includes Tapie's stint in prison for fraud in the 1990s. A French court in 2011 opened an investigation as to whether there had been "complicity in forgery" or "complicity in misuse of public funds" by those who approved the payment.
On Wednesday, an IMF spokesman told Bloomberg News: "It would not be appropriate to comment on a case that has been, and is currently before, the French judiciary."
Sounds like this could be serious—but then again, French police have a penchant for rifling through famous peoples' digs. During the past year, former President Sarkozy, the country's former chief law-enforcement authority, and the chief executives of France Telecom and utility Electricité de France all have had their homes or offices searched. No charges have been filed against any of them.
The raid on France Telecom Chief Executive Stéphane Richard's home, in January, also was connected to the Tapie case. Richard was Lagarde's chief of staff at the Finance Ministry. The other searches involved unrelated probes. Sarkozy's home was searched in connection with a long-running investigation of possible illicit campaign financing by L'Oréal cosmetics heiress Liliane Bettencourt, Europe's richest woman. Bettencourt's home was searched previously. French authorities also searched the home of former Interior Minister Claude Guéant in connection with the Adidas award to Tapie.
In January, police searched the home of EDF Chief Executive Henri Proglio in a probe involving the sale of an EDF subsidiary in Germany. French judicial investigations have a tendency to drag on for years and then quietly fade away. Lagarde's five-year term at the IMF, which started in 2011, could be long over before we know the outcome of this case.
Before it's here, it's on the Bloomberg Terminal.
LEARN MORE