How to Run an Effective Social Media Program
Steve McKee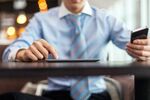 Consulting firm Vivaldi Partners recently published a ranking (PDF) identifying companies adept at using social media to generate consumer awareness and trigger purchases. The top 10 includes not only online stalwarts Google and Amazon, but also Subway, Target, Heineken, Dunkin' Donuts, and Home Depot—household names of today that are taking steps to remain the household names of tomorrow.
A few years ago social media may have been considered a luxury (or distraction), but it has since been proved to provide meaningful competitive advantage. As its influence grows, smart business owners will come to recognize it not as a project, initiative, or even a department, but as a way of doing business.
That said, just as big companies have big ad budgets that give them a sizable advantage over small businesses, they also have more resources to invest in their social media programs. But unlike advertising, the playing field in social media can be much more level. The key is to manage your limited resources wisely.
1. Strategy first. Too often the way companies approach social media is similar to how individuals approach dieting: Initial excitement soon turns to discouragement and ultimately disillusionment. Success in either area begins with strategy; you can increase the odds of achieving your goals by thinking ahead and customizing an approach that works for your specific situation.
One strategic mistake many companies make is choosing social media platforms based on what they are comfortable with as consumers. That's like advertising in a fly-fishing magazine simply because you're a fly fisherman—it might be the right decision, but not if you run a bakery. You need to take into account the characteristics of your organization, the profile of your audience, the nature of your message, and the strengths and weaknesses of each platform before you can prioritize where to focus your efforts.
Another common mistake is jumping onto multiple platforms without taking time to understand them. Each social media ecosystem has its own subculture, language, rhythm, and rules, all of which must be fully mastered to generate success. You can't fake it or take shortcuts; companies that, for example, dump identical content on different platforms just look stupid. If you don't have a good grasp of the peculiarities of each social media platform you choose, you should think twice before jumping onto it.
2. Content is king. One reality that's often overlooked when companies skip the strategy step is the ceaseless need for new content. Social media is a river that runs 24/7, and once you establish a presence it's vital to keep paddling. Companies that don't determine a thoughtful and scalable content development strategy ahead of time can easily find themselves watching the conversation flow by.
Establishing what you want to accomplish, what it's going to require, and how you intend to go about it will enable you to determine what metrics you'll need to measure success, another often-overlooked step. Big companies have the bucks to develop customized systems for information gathering and analysis. You don't, but dozens of affordable Web-based services are appearing (and improving) every day that can get you most of the way there. As your program grows, the metrics you set up (based on your strategy and tied to your objectives) should justify allocating the budgets and staff time necessary to enlarge your social presence.
3. Success takes time. The heaviest (and frequently underestimated) lifting is designing and installing the processes you'll need to effectively allocate your limited time and budget resources. Somebody needs to be in charge of trend watching, content development, calendar creation, writing, editing, posting, interacting, responding (in as close to real time as possible), and, depending on the platforms used, photography, graphic design, video production, and more. It can get hairy fast.
Even if you're starting small, say with a single presence on Facebook or Twitter, you mustn't underestimate the time required to be effective. A recent Vertical Response study of 462 small businesses indicated that 43 percent spend six or more hours a week on social media, and 18 percent spend more than 10 hours a week. The biggest time sink: content creation. It takes even more time if a blog is a part of your strategy.
This isn't meant to intimidate you. My advice is to start small. You can implement an effective Twitter strategy, for example, on 10 minutes a day. And as your social media program grows, there are outsourcing options for every element. The best tasks on which to spend your limited vendor dollars: strategy development and process design. Best practices are rapidly emerging in these areas (thus no need for you to reinvent the wheel), and a professional partner can tailor them to the realities of your specific goals and capabilities.
Content development is another area that can often be outsourced, as long as the handoff (turning that content into actual posts) is well-managed. The one thing you shouldn't outsource is your corporate voice. Social media is not just about what you say, but how you say it. The whole point is generating real-time conversation and responding as events unfold. That's just not something you want to vend. And never—never—delegate your individual social media presence to another person, even within your own company. No matter how capable and conscientious they may be, they're not you. They don't have your judgment. They don't have your personality. And it's simply not authentic.
In the not-too-distant future, there will really be no way to separate social media from the rest of the enterprise—it can or will affect not only marketing but customer service, accounting, research, investor relations, vendor relationships, distribution, and even product design. Getting a jump on managing it well now can give nimble small companies the ability to get out in front of slower competitors.