Chipotle Pulls Its Support of Boy Scout Event
By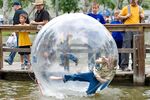 There won't be any burrito bowls at the Boy Scouts' annual Scout-O-Rama fundraiser near Salt Lake City. On Wednesday, Chipotle told Thinkprogress.org that it decided to withdraw its $4,250 sponsorship of the May 4 event—which "gives Scouts the opportunity to demonstrate their Scout skills" with such activities as zip lines and knot-tying—because it doesn't support organizations that discriminate based on sexual orientation. The burrito chain hopes "to prevent a recurrence of this issue," says spokesman Chris Arnold.
The Boy Scouts of America is considering a proposal to change its no-gays membership policy and recently sent members a survey about their view of the ban, which has already led such companies as Intel and United Parcel Service to withdraw funding to the organization.
The Scouts' membership has declined about 21 percent since 2000. Viken Mikaelian, founder of Plannedgiving.com, a company that advises nonprofits, says the Boy Scouts' stance on gay membership has become problematic, but he credits the organization's steep decline in recent years to other factors, such as not keeping up with changes in marketing and technology. "I have seen not a single nonprofit go out of business because they have such [anti-gay] policies," says Mikaelian.
Chipotle, which has positioned itself as a community-oriented company, has previously sponsored Scout-O-Ramas in Utah. But "when word of this particular sponsorship got to our leadership, we quickly made the decision to terminate the sponsorship, since it is a violation of our anti-discrimination policies," Arnold wrote in an e-mail.
According to the AP, Scout-O-Rama will soldier on unfazed, having collected $65,000 in cash and coupons for this year's event. Remaining sponsors include the Utah Jazz, the Utah Blaze football team, the Utah Grizzlies hockey team, and the Salt Lake Bees minor league baseball team, as well as the restaurant chain Chuck-A-Rama, local printing company IC Group, and the Clark Planetarium, according to the event website.
Before it's here, it's on the Bloomberg Terminal.
LEARN MORE