Your Employees Are Probably Job Hunting Right Now
By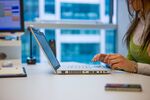 It's Tuesday, which means there's a good chance some of your employees already have looked for another job this week. Data provided to Businessweek.com from job sites Indeed.com, Glassdoor.com, and Simplyhired.com show that Mondays and Tuesdays are peak times for job hunting. Now might be a good time for worried managers to treat the office to pizza.
Workers aren't confining job searches to their off hours. On Simplyhired.com, U.S. searches peak on Mondays around 11 a.m. Weekly Web searches on Indeed.com also peak on Mondays around 11 a.m., and the daily peak on other weekdays tends to be around that time as well. Based on IP addresses, there's plenty of traffic from office computers, says Chris Hyams, vice president of product at Indeed.
"This does dispel the idea that people try to hide this from their employers by using a mobile device," says Hyams. "We definitely see people searching from places of employment. There's no question that this is not just people sitting at home." In fact, in a recent survey by career management firm Right Management, 74 percent of workers said they explore job sites during the workday.
Another bump occurs in the evening. The average peak time for searches on Glassdoor.com is Tuesdays at 9 p.m. in each time zone. Searches on Indeed.com from mobile devices—which represents about one-third of total traffic—peaks on Tuesdays at 8:30 p.m. local time.
The desire for self-improvement generally tends to be strongest at the start of the week, when people also are more likely to eat salad, start diets and exercise regimens, and quit smoking. After the weekend, reenergized employees feel more motivated, says Scott Dobroski, a Glassdoor spokesman. "By the end of the week, many of us … are so tired from the work week that we just want to relax and get to the weekend as fast as we can," he says.
Before it's here, it's on the Bloomberg Terminal.
LEARN MORE