The Libyan Who Brought Sriracha to Benghazi
Caleb Hannan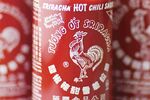 Less than a decade ago, Huy Fong's sriracha, a hot sauce made in suburban Los Angeles, was available only in a few Asian supermarkets and restaurants on the West Coast. Today it can be found in shops all over the U.S., in the makeshift kitchen of the International Space Station, and, in perhaps the least likely place imaginable, on store shelves in Benghazi, Libya.
In last month's feature on sriracha, Businessweek told the story of how Vietnamese immigrant-turned-entrepreneur David Tran has made the Thai hot sauce a cultural icon in America. After starting off in a small storefront in L.A.'s Chinatown more than 30 years ago, Tran and his employees will soon move into a new, 655,000-square-foot headquarters in Irwindale, Calif., from which they'll make and sell more than 20 million of his trademarked clear plastic squeeze bottles full of sauce.
The story of how sriracha made it to Libya, however, has less to do with Tran than with one of his best customers. Around the time when Tran was making his first batches of sriracha, Salah Bala, an immigrant from Benghazi, was making his way to L.A. Bala started his own export shop, from which he sold American-made cars to his home country. Every year, when returning to visit family and friends, Bala would pack a few bottles of Huy Fong sriracha in his carry-on as a gift. But no matter how much he brought, it was never enough.
"Each time I take one or two bottles, they ask me to please bring more," he says.
The idea that his relatives might be hooked on the sweet and spicy taste of sriracha wasn't unfamiliar to Bala. He was too. But it wasn't until last November that he thought of leveraging that obsession into a business.
Libya was, at the time, not the most natural destination for an American-made product. Two months earlier, U.S. Ambassador Chris Stevens had been killed in an attack on the American consulate in Benghazi, becoming the first to die while in office in nearly 25 years. Yet despite the turmoil, Bala saw opportunity. Like many North Africans, Libyans were obsessed with harissa, a Tunisian hot sauce. But beyond that there was little competition. He decided he'd provide some.
Bala called Huy Fong to ask about ordering a container, or roughly 26,000 bottles. For most companies, it would have been an easy request to fulfill. But Huy Fong insists on grinding and bottling all its jalapeno peppers the same day they are picked and, as a result, often doesn't have enough inventory to satisfy all its customers. It's part of the reason the company doesn't advertise.
"We've always had more buyers than product," says Tran. "We can't promise something we don't have."
Bala, though, was in luck. Huy Fong had what he needed. And after a month of waiting for the container, a few weeks in transit, and another two weeks waiting for Libya's Department of Health to inspect his shipment, Bala at the beginning of the year officially became the first, and still only, distributor of sriacha to the Middle East, where his sauce sits on Benghazi store shelves for the low price of 4 dinar, or roughly $2.75. (In the U.S., a bottle will probably set you back around $4 or $5.)
"I told my partner, 'C'mon man, do your best. They sell for even more here!" says Bala. "But we have to look at the people and the cost of living."
Discounted or not, Bala says the sriracha is selling briskly. "All my friends and family told me it's going really well," he says. And in a sign of his optimism, he's now begun looking toward expansion. In the next month he'll order another container, this one bound for Tripoli, Libya's capital and largest city. He's taking trips to Qatar and Dubai to line up distributors. And he also hopes one day soon to sell to Egypt, the Middle East's most populous country.
Before it's here, it's on the Bloomberg Terminal.
LEARN MORE