Former Biz Student Planned Florida School Attack, Killed Self
Francesca Di Meglio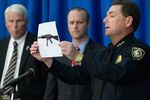 A former student at University of Central Florida's College of Business Administration died of a self-inflicted gunshot wound in his dorm room and appeared to have been planning a violent attack on others, according to news alerts issued by UCF. The body of James Oliver Seevakumaran, 30, was found March 18 in his apartment on the third floor of UCF's Tower 1 with a handgun, tactical assault rifle, and backpack containing four homemade bombs.
"It could have been a bad day for everybody here," UCF Police Chief Richard Beary said in a news alert issued by the university. "All things considered, I think we were very blessed at the University of Central Florida."

The school is reporting that Seevakumaran began purchasing weapons in February, and Beary is quoted by the Orlando Sentinel as saying that writings found in his dorm room indicate there was a planned attack. Police believe that Seevakumaran triggered a fire alarm in Tower 1 early Monday and planned to shoot other students as they fled the building, according to the Sentinel. The perpetrator pulled a gun on one of his three roommates, who escaped to the bathroom and dialed 911.
Enrolled in the College of Business from fall 2010 to fall 2012, Seevakumaran was not taking any classes in spring 2013. He was in the "process of being removed from UCF housing," according to the news alerts. Classes were canceled Monday morning but resumed in the afternoon.
"Times like today challenge us individually, as an organization, and as a university community," said UCF President John C. Hitt, according to the news alerts. "The first test for all of us is whether we are focused on the safety of our community, and I am confident that UCF has passed that test."
Join the discussion on the Bloomberg Businessweek Business School Forum, visit us on Facebook, and follow @BWbschools on Twitter.
Before it's here, it's on the Bloomberg Terminal.
LEARN MORE