Turmoil at Electronic Arts as CEO John Riccitiello Resigns
Can Successor Boost Game Sales?
by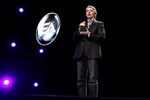 Earlier this month, Electronic Arts, the nation's second-largest video-game manufacturer, released a hit title called Dead Space 3. It's the story of Isaac and John Carver, an adventurous pair that must escape from a devastated planet known as Tau Volantis, repair their damaged spacecraft, and return to earth without being devoured by the ghoulish Necromorphs. The company promised that Dead Space fans would be treated to "pulse-pounding" moments while they played the games.
More recently, Electronic Arts has been providing its own thrills to investors. On Monday, the company announced that Chief Executive Officer John Riccitiello would step down from his position and leave its board at the end of the month. Riccitiello has been at the helm since 2007. "He lasted a pretty long time, given that the company hasn't really performed that well," Edward Woo, an analyst at Ascendiant Capital Markets, told Bloomberg News. "The fact that their stock is up on the news goes to show investors weren't that big a fan of Riccitiello."
Electronic Arts didn't give any explanation. But the announcement included a warning that the company is likely to miss financial targets for the current quarter, even with the success of Dead Space 3. "EA expects that its revenues and earnings per shares for the current quarter will be at the low end of, or slightly below previously issued guidance," it said.
EA may puzzle investors, but the larger forces plaguing the video-game industry are no mystery.  In a March 15 report, Edward Williams, an analyst at BMO Capital Markets, parsed the most recent video-game sales figures from NPD, a market research firm that closely follows the industry. Williams noted that retail sales of video game software declined 27 percent last month over results from the same period in 2012.
"Every platform saw declines on a year-over-year basis," Williams wrote. "Xbox 360 software sales declined 15%, while software sales on the PS3 declined 24%. Combined Nintendo console software sales in February were down 43%, as Wii U SW sales slightly offset the 50% decline in Wii SW sales."
One reason for the dismal numbers is that the hardware from the major console makers has grown a bit stale. Sony recently said it is working on the PS4, the next version of its PlayStation platform, which would lift software sales, especially if it nudges Microsoft to release a new Xbox. But even if new consoles appear, it's unclear whether they will slow the migration of consumers away from console fare like Dead Space 3 to Internet-based and mobile games.
EA has appointed Chairman and former CEO Larry Probst to lead its executive team while the board searches for someone to replace Riccitiello. Once the search is over, the industry's larger challenges remain.
It's a little like Dead Space 3: Fix one thing and a new crisis hits. Even if John and Isaac elude the Necromorphs, they have to deal with Isaac's mental problems. 'The solidarity among the two is further threatened as Isaac's madness sets in," Electonic Arts  earlier this month said in a press release for the game's introduction. "Haunted by images of the Unitologists, insanity takes hold and the two survivors realize they can no longer trust each other." Sounds difficult—just like the video-game business.
Before it's here, it's on the Bloomberg Terminal.
LEARN MORE