MBA Journal: Closing Doors
Nupur Sharma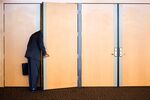 I had a lovely and much-needed winter break to refresh from all the rowing, conferences, class projects, speaker and networking events, and, of course, exams. We were all just beginning to settle in and BOOM! The job hunt is on.

One of the trickiest parts about being in a one-year MBA program like mine at Saïd Business School is balancing between accomplishing what you came to business school for—the education—and diving into the job hunt. It's a tough sell to start applying for full-time jobs in your first month (unless you are going into finance, as the timeline requires you to do just that). You haven't completed any elective courses that relate to your next steps, and you haven't had time to delve into new areas of interest. However, the clock starts ticking once you return from winter break, and the general trend is a massive focus on career. Because we graduate in the fall, we also need to think through whether we are looking for a summer internship that may lead to a job offer, or whether we want to take classes/do projects over the summer and only focus on jobs post-graduation. Right now I am leaning toward having a summer internship.
A gem of advice that I received at the beginning of the year is to close doors, even if you haven't figured out all the details of exactly what you want to do. It's easy to give in to the temptation of attending an event for an amazing company or jumping into competitions for which your classmates are signing up, but you have to close doors. This may mean not going to any events specific to a region of the world to which you would not move (regardless of the company) or those related to an industry/job function in which you are not interested. Even if you haven't chosen the door that you want to keep open, closing doors will help you home in on the right one.
Aside from the job hunt and being able to take elective courses, this term is different because we are the first class to participate in a group project called GOTO (Global Opportunities and Threats: Oxford). The theme for this year is the population challenge. We are able to share our ideas and collaborate on a Web-based platform that is also accessible to alumni, faculty, and EMBA students, giving our work immediate visibility to the entire network. This unique assignment also allows MBAs to partake in the traditional tutorials, which is an Oxford experience that MBAs have not previously done. Tutorials are weekly or biweekly meetings with one professor and a group of five students. In this meeting you review weekly essays that you have written in a setting where the professor will pick apart your paper, pushing you to further analyze and refine your arguments. You may also receive input from your classmates, which makes the discussions even more interesting given our various backgrounds and different ways of thinking.
Between journal entries, you can keep track of Nupur's business school adventures at the Business Schools Facebook page. Follow the Bloomberg Businessweek B-Schools team on Twitter.