Live Chat: Best Undergraduate B-Schools Ranking
Francesca Di Meglio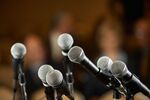 Chat: Wednesday, March 20, at noon EDT
Guests: Louis Lavelle, associate editor, and Geoff Gloeckler, staff editor, Bloomberg Businessweek
Which undergraduate business school tops Bloomberg Businessweek's 2013 list of best programs? Don't miss our live chat on March 20 at noon EDT. Bloomberg Businessweek editors Louis Lavelle and Geoff Gloeckler will take your questions as they count down to the best undergrad business school in the country.
To participate, head to the Chat Auditorium about 10-15 minutes before the scheduled event. You may need to download a Java plug-in and create a nickname. Francesca Di Meglio (screen name: FrancescaBW) will be your host. If you can't tune in for the live chat, send your questions ahead of time to Francesca at FDBloombergBW@gmail.com with the subject "Rankings Chat."
Before it's here, it's on the Bloomberg Terminal.
LEARN MORE